Success of Six Month Trial of Compressed Biomethane Fuel in Camden Cage Street Cleansing Vehicle
Success of Six Month Trial of Compressed Biomethane Fuel in Camden Cage Street Cleansing Vehicle

In October 2008, Veolia Environmental Services, the UK's largest waste management company, Gasrec, the UK's first commercial producer of compressed biomethane (CBM) fuel, full range commercial vehicle manufacturer Iveco, and vehicle suppliers Stormont Truck & Van, commenced a trial of a CBM-powered street cleansing vehicle in Camden that could drastically reduce society's reliance on fossil fuels. Funding and evaluation support was provided by Cenex, the UK's first centre of excellence for low carbon and fuel cell technologies.
Six months on and the trial, which compared the performance, sustainability and reliability of a CBM-fuelled New Daily 65C14G vehicle compared with existing Daily 65C11G vehicles running on compressed natural gas (CNG), has reached its conclusion with notable results.
The key findings are:
• The fuel savings per kilometre of the CBM-powered Cage vehicle compared to the current CNG-powered Cage vehicle is 6%.
• The well to wheel CO2 emissions, which also consider CO2 released into to the atmosphere during fuel production and distribution, show emission savings per kilometre between the CBM and CNG-powered vehicles is 56%. Typical commercial vehicle industry data shows, when compared to fuel consumption figures for a similar sized diesel vehicle, savings of between 53% and 59% CO2 could be achieved.
• The Iveco Daily CBM powered vehicle showed no reliability issues during the six month trial.
The biomethane fuel is derived from waste sent to landfill and is considered to be carbon neutral since it is produced from recently decomposed material. By developing a bespoke gas-powered engine, coupled with CBM, the result is a real alternative to fossil fuels.
Veolia is the first waste management company in the UK to establish a working comparison between compressed biomethane, compressed natural Gas and diesel. Implementing CBM in part of Veolia's street cleansing operations in Camden has enabled a continuous cycle to take place: from waste collection to waste decomposition to biogas production to vehicle fuel - and back to waste collection again as the fuel is being used to collect more waste.
From an operational perspective, the CBM-powered vehicle has proven to be more efficient due in part to the new higher power vehicle, but also due to the improved fuel quality of the CBM when compared with that used in the CNG-fuelled vehicle. It only requires to be filled up with fuel once a day, lasting for an entire double shift, accepting up to 38kg of CBM, whereas CNG-powered vehicles need to be filled up twice per day. It also provides better measurement for drivers on how much fuel they are adding and drivers have commented on how much more responsive the CBM-powered Cage was compared with previous CNG-powered Cage vehicles.
Additional benefits that the trial has brought to light are that exhaust emissions are very low in particulates and nitrogen oxides, so have much less impact on local air quality compared to other types of vehicle fuel. The Iveco Daily CBM vehicle already meets and exceeds Euro 6 emissions legislation, which does not come into force until 2014.
Also, the CBM-powered vehicle has proven to be a lot less noisy than its counterparts, making it ideal for urban settings and particularly for early morning or late night work.
Keith Riley, Managing Director for Technical Services at Veolia, said: "We are very pleased that the trial of CBM has proven to be a success as it has enabled us to realise the potential of the fuel in reducing climate change impacts and contributing to reducing our dependence on mineral fuels. Of course it was just a pilot scheme over a relatively short period, but it has shown us that the potential is there. From this trial we can see that there is an opportunity for further development of this type of technology in some of our operations and areas that we can now consider include developing a system to harness the fuel from our own network of landfill sites and seeing if we can work with our partners in utilising the technology amongst our fleet of light goods vehicles."
Richard Lilleystone, Chief Executive Officer at Gasrec, commented: "The gas we use to make the CBM for this vehicle comes from a landfill site in Albury, Surrey, which means it is not depleting fossil resources. Through creating and selling this fuel product, we recover the latent energy stored in material discarded by society, providing power which is particularly suited to vehicles operating in the urban environment. We are particularly pleased with the improvements achieved in air quality when using CBM to displace diesel. Every Local Authority in the UK would welcome reductions of 90% particulate matter, 60% reduction in nitrogen oxides, 50% reduction in sulphur dioxide and even a noise reduction of around 30%."
Nigel Emms, Brand & Communications Director at Iveco UK, added: "Iveco has a lot of experience on natural power using both CNG and CBM with over 4,000 Dailys operating around Europe to-date. We are committed to this technology and believe it offer significant environmental and economic benefits when operating in urban conditions."
Robert Evans, CEO of Cenex said, "We are very pleased to have supported Camden's innovative trial. It provides a strong example of biomethane use in a commercial vehicle application. The independently verified data will be welcomed by organisations considering switching their fleets to biomethane or other low carbon options.
Andrew Smith, Group Aftersales Director of Stormont Truck & Van, stated: "From an operational perspective this vehicle has performed exceptionally well and has been 100% reliable. The routine maintenance and test measurements were completed at our Dunstable Dealership where we worked closely with Veolia, Gasrec and Iveco in ensuring that the test results were accurate and used our expertise and knowledge of the CNG Daily as a comparison and the CBM Daily showed considerable improvements against the older model."
Featured Product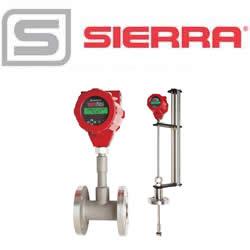 Sierra was the first to introduce a combination volumetric vortex and multivariable mass flow meter in 1997. Today, Sierra's completely redesigned InnovaMass® iSeries™ 240i/241i builds on two decades of success measuring five process variables for gas, liquid and steam with one connection. Now, with the latest hyper-fast microprocessors, robust software applications, field diagnostic and adjustment capability, and a new state-of-the-art flow calibration facility, Sierra's vortex iSeries delivers precision, performance, and application flexibility never before possible.