Featured Green Stocks at Investorideas.com: Wescorp Energy Inc. (OTCBB: WSCE ), GWS Technologies, Inc. (OTCBB: GWSC), Magnegas Corporation (OTCBB:MNGA)
Investorideas.com Green Investor News - Looking for the Green "Google"

Featured Green Stocks at Investorideas.com: Wescorp Energy Inc. (OTCBB: WSCE ), GWS Technologies, Inc. (OTCBB: GWSC), Magnegas Corporation (OTCBB:MNGA)
POINT ROBERTS, WA and DELTA, BC -October 20, 2009 - www.RenewableEnergyStocks.com, a leading global investor and industry portal for the renewable energy sector within www.Investorideas.com features new green investor content and commentary - 'Looking for the green Google ' .
Looking for the Green Google
By Joyce Pellino Crane
With the successful initial price offering of A123 Systems, Inc. (NasdaqGM: AONE), the cleantech industry served up a plate of optimism for Wall Street last month, even though the lithium-ion battery maker is yet to show profitability.
But like a budding ingénue filled with promise, A123 Systems is drawing a lot of attention these days and that has helped to raise the visibility of the industry. Also helping are the government stimulus funds that are flowing to businesses and triggering the interest of venture capitalists.
Now investors are wondering if there's a Green Google out there—a young business with the promise of magnificent returns.
But Tom Konrad, an analyst and blogger for AltEnergyStocks.com, said it's unlikely that the cleantech industry will produce a Google, "because cleantech is extremely capital intensive."
"It's an explosive model," Konrad said of Google, "because it has both network effects which lead to a natural monopoly situation, plus extremely low marginal costs."
Konrad noted that Google benefits from a flourishing lattice of content providers and advertising forums that feed off each other, making it difficult for a competing search engine like Microsoft's Bing to pull users away.
"There's a chicken and egg problem," he said.
Of all the cleantech sectors, only smart grid companies have the potential for the explosive network effect of Google, Konrad said. A smart grid delivers electricity to consumers using digital technology for greater efficiency and reliability. But growth prospects are hindered by a regulated and fragmented market, and therefore, not necessarily subject to market forces, he added.
"Right now we have a dumb and blind grid, so software could make the grid smarter," he said. "But unless you give it vision, it won't do you any good."
Cleantech industry sectors include energy generation, such as wind, solar, and biofuels; energy storage, such as fuel cells, advanced batteries, and hybrid systems; energy infrastructure; energy efficiency, transportation, water and wastewater.
Konrad said he is not buying cleantech stocks at the moment because he views the stock market, as a whole, as "over-valued."
"I like companies that are already profitable and can fund all business from cash flows," he said.
A current favorite for Konrad is New Flyer Industries, a manufacturer of gasoline hybrid and natural gas powered buses.
But, he cautions, "They're not going to be the next Google. It takes a lot of money to build a bus."
In his blog on October 5, Konrad wrote that New Flyer's combined interest and dividend yield of over 13 percent "continues to compensate well for the risk of any price fluctuations."
At $13.50 per share, the initial price offering of A123 Systems boosted the company's market valuation to $1.99 billion by day's end on September 24. The company, based in Watertown, Mass., has raised more than $350 million in private investment funds since its 2001 inception, and in August it was awarded a $249 million grant from the US Department of Energy to build manufacturing facilities domestically. The first will be located in Livonia, Michigan. A123 is working with Chrysler to produce battery modules and battery packs for range-extended electric vehicles and battery-only electric vehicles. While the energy storage space is considered highly promising, the battery-maker has a long way to go before it shows solid fundamentals for retail investors. The company earned only $42.9 million in revenues between January1 and June 30, and posted a net loss of $40.6 million.
Energy is a massive piece of the country's gross domestic product, noted Neal M. Dikeman, a partner at San Francisco-based Jane Capital Partners, so it's not necessary to have a category killer like Google for a company to be successful.
"A123 is not a category killer," Dikeman said, "but it doesn't mean they won't be a great business."
If the auto industry shifts to lithium-ion batteries, even a two percent market share will be "a heck of a business," said Dikeman, who authors the Cleantech Blog.
However, a sector newcomer such as A123 Systems will be competing with many older, more established battery manufacturers such as Sony Corp., GS-YUASA Corp., and Sanyo Energy Corp.
"For any of these new guys to break in, they've got to beat out the old guys," Dikeman said. "…It's more of a changing of the guard than it is the erection of a new category."
There are several cleantech startups waiting to go public, said Dikeman.
"We'll see what happens in the solar area," he said. "There are a whole bunch of guys like Tesla that would come out if they could, but I don't know if they're ready."
Tesla Motors, of San Carlos, Calif., has produced a lightweight sports car powered by lithium-ion batteries. The company will begin selling an electric sedan in 2011.
First Solar, Inc. (NASDAQ: FSLR), a manufacturer of low-cost solar modules, is a promising cleantech company, according to Dikeman. "It's as close to a category killer as you get," Dikeman said, but even so, the company has just under 10 percent of the total solar modules market.
First Solar's stock price has ranged from about $85 to $207 per share over the past 52 weeks, and has been trending toward $160 per share since the early part of this month.
According to the San Francisco-based CleanTech Group, the industry rebounded in the second and third quarters of this year, after significant declines in the previous two quarters.
"Many governments have put money aside to grow Cleantech jobs," said Dallas Kachan, managing director of the Cleantech Group, "and we believe that will give venture capitalists the confidence they need to put large amounts of private capital to work in the sector."
The terms green tech and cleantech, vary slightly in meaning, but both refer to investing in emerging technologies to improve the environment.
Last month the Cleantech group identified 100 top emerging companies out of 3,500 with commercial promise and the highest likelihood of achieving high growth.
In addition to Tesla, the top three following A123 on the Cleantech list were:
Bridgelux, a manufacturer of light-emitting diode, focused on energy efficiency and cost-effectiveness; BrightSource Energy, a solar thermal power plant which uses multiple mirrors to reflect sunlight to a steam-producing boiler; and Trilliant, a supplier of advanced metering products for more efficient utility service.
Dikeman, who agrees with Konrad that smart grid companies have the greatest potential for revenue growth said he favors Landis Gyr, a manufacturer of advanced electricity meters, Silver Spring Networks, a smart grid provider of software and hardware metering solutions, and IBM Corp., which is currently testing electric monitoring devices.
But as for finding the Google of the cleantech industry, Konrad puts things in perspective.
"Looking for the next Google in any sector is not a good way to invest," he said. "There was one Google…Look for companies that are likely to be profitable and undervalued. Don't look for the next Google."
Joyce Pellino Crane writes at wordtrope.com/blog, and can be reached at joycepellinocrane@gmail.com.
Disclosure: The author owns shares of A123 Systems, Inc., and invests in stocks and mutual funds.
Featured Green Stocks at Investorideas.com:
GWS Technologies, Inc. (OTCBB: GWSC), an alternative energy company developing renewable energy solutions. GWS stands for GreenWindSolar. Our products and solutions are part of the new "microgeneration" movement that is transforming the way everyday people provide for their energy needs. Through a growing line of solar and wind-powered products ranging from handheld devices that can recharge an iPod to wind turbines for point-of-use alternative energy generation, GWS is leading the way in the emerging microgeneration marketplace. The company was founded in 2005 and is headquartered in Scottsdale, Arizona.
Magnegas Corporation (OTCBB:MNGA) is the producer of MagneGas(TM), a natural gas alternative and metal cutting fuel made from liquid waste such as sewage, sludge, manure and certain industrial and oil based liquid wastes. The Company's patented Plasma Arc Flow(TM) process gasifies liquid waste, creating a clean burning fuel that is essentially interchangeable with natural gas, but with lower green house gas emissions. MagneGas(TM) can be used for metal cutting, cooking, and heating or powering bi fuel automobiles.
Wescorp Energy Inc. (OTCBB: WSCE ) is an Oil and Gas solutions provider focused on deploying its water remediation and environmental technologies that overcome tough operational challenges facing oil and gas operators today on a global basis. Virtually anywhere in the world oil is produced contaminated water is produced, this includes associated formation water in conventional oil and gas production and potable water used in unconventional oil production such as the massive Oil Sands development in Alberta Canada.
Using conventional oil/water/solids separation technology, between 0.05% - 5% (500 ppm - 50,000 ppm) residual oil content remains in the water, Wescorp's patented, proven and highly scalable H2Omaxx microscopic aeration technology addresses this crisis by being able to increase the recovery of oil and reduce the amount of hydrocarbons in the contaminated water to less than 0.001% or 10 ppm. Wescorp's H2Omaxx is extremely economical and environmentally friendly eliminating the use of chemicals, filtration systems, high temperature systems and high pressure vessels.
*The following companies are showcase advertising companies- please read disclaimer and disclosure below.
To learn about becoming a featured renewable energy or green stock, contact us below.
For investors following solar stocks, the RenewableEnergyStocks.com website provides a comprehensive list of photovoltaic and solar stocks to research.
Read solar stocks commentary and the latest column of "Renewable and Solar Energy Perspectives" with J. Peter Lynch. Read his newest columns, the Solar Innovations series, looking at private companies in the sector
About Our Green Investor Portals:
www.RenewableEnergyStocks.com® is one of several green investor portals within Investorideas.com and provides investors with stock news, exclusive articles and financial columnists, audio interviews, investor conferences, Blogs, and a directory of stocks within the renewable energy sector.
Visit the Investorideas.com Green Investor Portals: www.RenewableEnergyStocks.com ®, www.FuelCellCarNews.com ®, www.EnvironmentStocks.com, www.Water-Stocks.com and www.GreentechInvestor.com all within the Investorideas.com hub.
About InvestorIdeas.com:
Investorideas.com creates a meeting place for investing ideas to take form and come to life in an entrepreneurial environment, servicing the needs of small investors and start- up companies to large conglomerates! We cover multiple industry sectors but specialize in environmental and water.
Investing in Renewable Energy, Environment and Water Stocks - Get access to global stocks directories in cleantech sectors. The renewable energy stocks directory is estimated at 900 stocks and growing!
Become an Investorideas.com Member- Gain login access to 8 global stock directories including renewable energy stocks directory, environment stocks, water stocks, fuel cell stocks, biotech stocks, defense stocks, natural gas stocks, oil and gas stocks as well as the Insiders Corner investor newsletter covering insider buying trends on small cap stocks.
Disclaimer: Our sites do not make recommendations. Nothing on our sites should be construed as an offer or solicitation to buy or sell products or securities. We attempt to research thoroughly, but we offer no guarantees as to the accuracy of information presented. All Information relating to featured companies is sourced from public documents and/ or the company and is not the opinion of our web sites. Disclosure: Investorideas is compensated by featured green companies WSCE, MNGA and GWSC, news submissions and online advertising.
Disclosure .To become a showcase company, contact us below.
For more information contact:
Dawn Van Zant 800.665.0411
Email: dvanzant@investorideas.com or Cali at cvanzant@investorideas.com
Source: www.RenewableEnergyStocks.com, www.Investorideas.com
Featured Product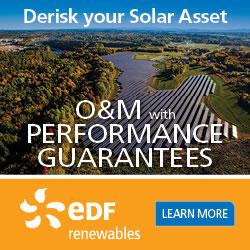 EDF Renewables offers the same innovative solutions that maximize the performance of our own 5.2 GW of installed projects. Because we're not an equipment manufacturer, our recommendations are transparent and data-driven. We cover the entire project lifecycle: from pre-commissioning support, through warranty and post warranty operation, to late stage and decommissioning.