Following the successful TriStar controller, Morningstar is pleased to announce the introduction of the TriStar MPPT solar controller with TrakStar Technology™.
The TriStar MPPT is the world's most advanced maximum power point tracking photovoltaic (PV) controller providing many advantages over comparable products:

• Maximizes solar energy harvest
• Highest peak efficiency of 99%
• Includes on-board Ethernet
• Provides up to 200 days of data logging
The TriStar MPPT is designed for off-grid PV systems as large as 3 kWp, and is rated for 45 or 60 amps at up to 150 volts PV open circuit. This product is extremely reliable since it has a robust thermal design, no internal cooling fan and no mechanical relays.
The TriStar MPPT is well suited for large professional and consumer PV applications such as remote telecommunications and off-grid homes.
Morningstar is the world's leading supplier of solar charge controllers and inverters whose quality products provide higher reliability and better performance. The firm's products are sold through a network of over 164 authorized solar distributors worldwide.
For further information, please contact your PV distributor or dealer or visit www.morningstarcorp.com.
Featured Product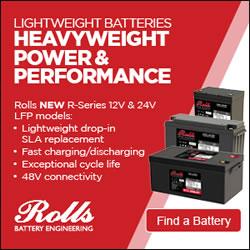 Designed for true drop-in replacement, Rolls new R-Series 12V & 24V LFP lithium models offer a maintenance-free lightweight flooded and SLA alternative in four popular BCI case sizes with fast charge/discharge capability. Rolls custom built-in BMS provides all necessary operating protections for safe operation and seamless integration for deep cycle replacement in 12V, 24V or 48V systems.