KinergyPower of Welland Canada is looking forward to the installation of its first Canadian installation. Current plans call for the KinerBump to be installation in Welland near the Transit Terminal and Farmers' Market area.
On October 2, Stefanos Horianopoulos, the Director and inventor of KinergyPower received the news from Damian Goulbourne, the Mayor of Welland Canada that the city was willing to help Horianopoulos and KinergyPower his fledgling energy company.

At a press conference Goulbourne announced plans to develop a local manufacturing park and a new Intensive Innovation Support Inniative. that KinergyPower will receive a variety of support, including research and development assistance through VISTA Science and Technology. Most important to Kinergy Power, Mayor Goulbourne noted that while Canadian municipalities can not provide direct funding they can be customers for new businesses and anounced plans to be KinergyPower's first customer.
Current plans call for the KinerBump unit to be installed in the area near the Welland Transit Terminal and Farmer's Market.
Featured Product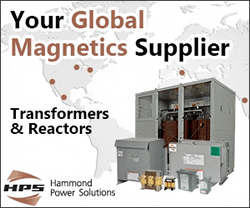 HPS is the largest manufacturer of dry-type transformers in North America. We engineer and manufacture a wide range of standard and custom transformers that are exported globally in electrical equipment and systems. We support solid industries such as oil and gas, mining, steel, waste and water treatment, and wind power generation. HPS leads the industry in these markets through its technical design strength, breadth of product, and manufacturing capabilities, making HPS a stronger company both fundamentally and financially.