Credit Crisis Creates New Funding Opportunities for Alternative Energy Firms
A well known Los Angeles area design-build firm, in business since the Great Depression, has announced the creation of E-RENEW® Capital LLC, a new division formed specifically to provide funding for the growing number of alternative energy projects in the U.S.

E-RENEW has already committed funding for a 125-kilowatt solar photovoltaic array atop a municipal building in New Jersey, according to Ben Earl, president of E-RENEW. Earl sees the market for wind, solar, hydrogen and natural gas energy installations about to surge forward in the U.S., especially in the government, education and commercial sectors. He said that's a big reason that Earl Corporation, located in Irwindale, decided to spin off E-RENEW as a new division.
E-RENEW's first solar venture will provide financing for 3rd Rock Systems and Technologies, an established Silicon Valley firm that to date has installed $20 million in solar photovoltaic systems for institutional, and commercial solar systems around the U.S. The project will be located in Lyndhurst Township, NJ, a community of 20,000 in Bergen County, close to the New York metropolitan area. The city was named recently by Money magazine as one of the 50 best places in the U.S. to "live and launch," a tag referring to its interest in attracting tech-savvy companies as well as its livability. Moving forward on solar will help the city to buff its growing tech-friendly image while cutting its long-term energy costs.
Earl says that, while the lack of available capital has slowed the construction sector nationwide, the disruption of traditional credit markets over the past year has created opportunities for small, innovative funding firms with strong financial positions. That's because solar integrators like 3rd Rock typically bear the front-end costs for system hardware and installation, and they own the solar modules, once installed. Their revenue comes from contracts with building owners like Lyndhurst Township, selling them power at an attractive fixed rate over the life of the contract - called a Power Purchase Agreement or PPA.
With credit markets all but locked up, 3rd Rock turned to E-RENEW to pick up the Lyndhurst financing. Earl says that E-RENEW has another funding project with 3rd Rock already in the pipeline, and is actively seeking more solar, wind, hydrogen and natural gas projects nationwide. "We see this as the front end of a growing and necessary move in the U.S. toward harnessing more renewable and domestic power sources," he said.
Contact:
Charles J. Reilly
Charles Reilly Company
San Diego, CA 92122
P: 858 / 452 6607
F. 858 / 452 6927
E-mail: charlesr@san.rr.com
Featured Product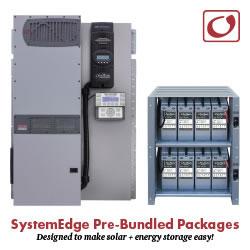 Each pre-bundled package is designed to make solar plus energy storage easy. By combining OutBack's most popular FLEXpower pre-wired systems with matched OutBack energy storage, SystemEdge takes the guesswork out of installing solar plus storage. Every SystemEdge package includes a FLEXpower factory pre-wired system, application-specific EnergyCell batteries and racking, FLEXware ICS Plus combiner and all the necessary connection hardware.