Abilene, Texas, is implementing $1 million in energy efficiency upgrades to city buildings. The project is paid for with Energy Efficiency Conservation Block Grants and includes the city's first solar power installation. Schneider Electric will complete the work as a performance contract.
The city of Abilene, Texas, is implementing a second series of energy efficiency upgrades to city buildings. Valued at more than $1 million dollars, the project is paid for entirely with Energy Efficiency Conservation Block Grants as part of the American Recovery and Reinvestment Act. The facility enhancements are designed to improve operations, comfort and efficiency at 11 city buildings and include adding solar photovoltaic panels on the civic center. Schneider Electric, the global specialist in energy management, will complete the work as a performance contract with the city. Schneider Electric guarantees that Abilene will reduce its utility costs by more than $28,000 annually when the project is completed in November 2010.

Earlier this year, Schneider Electric completed a $9 million performance contract for this city of 116,219 located in the western part of the state. The first project improved operations, security and efficiency at 34 city buildings and will save the city of Abilene $12 million in utility costs during the next 15 years. The second project provides additional efficiency and savings for the city and targets equipment that is failing.
"Our second performance contract with Schneider Electric will provide the city with much-needed mechanical upgrades to the heating, ventilating and air-conditioning (HVAC) systems at several of our buildings, such as the zoo and the animal control building," said Odis Dolton, assistant director of finance, city of Abilene. "Furthermore, with the addition of solar panels at the Civic Center, the city is taking its first step into using renewable energy sources for city buildings."
Performance contracting offers many long-term benefits for city governments, such as improved facility efficiency, occupant comfort, financial management and environmental protection. Typically, new, more efficient equipment and upgraded facility automation systems maximize energy efficiency and generate utility savings. Schneider Electric guarantees the amount of savings performance contracting projects will achieve and agrees to pay the difference if that amount is not realized.
Energy conservation measures (ECMs) Schneider Electric will utilize for this project include LED lighting retrofits, installing lighting occupancy sensors throughout primary city buildings, HVAC replacements at 11 city facilities and, in addition to the solar panels, installing a new cooling tower at Civic Center facility.
"This second performance contract enables the city of Abilene to continue to achieve its facility enhancement goals, which include maximizing utility savings, standardizing equipment, reducing deferred maintenance and capital needs replacement, and implementing renewable energy," said Shon Anderson, vice president, sales, Energy Solutions group of Schneider Electric. "Thanks to the government stimulus funding for this project, the city gets to meet these objectives without any additional costs to the citizens of Abilene."
In addition to funding the performance contract, Abilene also acquired EECBG funds for a citywide compact fluorescent light bulb giveaway program to encourage citizens to switch to more efficient light bulbs. The city is also funding an appliance rebate program designed to promote the replacement of old household appliances with new, efficient Energy Starô rated appliances.
About Schneider Electric
As a global specialist in energy management with operations in more than 100 countries, Schneider Electric offers integrated solutions across multiple market segments, including leadership positions in energy and infrastructure, industrial processes, building automation, security, and data centers/networks, as well as a broad presence in residential applications. Focused on making energy safe, reliable, and efficient, the company's 114,000 employees achieved sales of more than 18.3 billion euros in 2008, through an active commitment to help individuals and organizations "Make the most of their energy."
www.schneider-electric.com.
Featured Product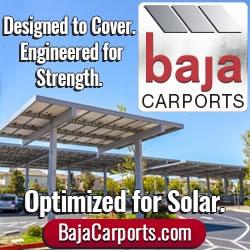 Baja Carports offers an extensive solar support system product line customized to customers' site specifications by in-house engineers, meeting their parking lot coverage, plus optimal PV production needs. Baja's Full Cantilever Tee is often paired with its Semi and Full Cantilever carports to meet live/loads up to 60psf and wind speeds to 160mph. All Baja products are pre-fabricated, bolted connections, pre-galvanized structural steel for fast on-site installation and project aesthetic requirements."