Leadership to develop energy infrastructure and harness nation's vast solar resources recognized
WASHINGTON, DC - The Solar Energy Industries Association (SEIA) today announced Secretary of the Interior Ken Salazar as recipient of a 2009 National Solar Energy Champion Award, citing his tireless leadership to spur clean energy infrastructure development, create jobs, combat climate change and harness our nation's vast solar resources.

"In his role at the Department of the Interior, Secretary Salazar oversees the best solar resources in the world and understands that we need to put this clean, domestic resources to work for America," said Rhone Resch, president of SEIA.
"Throughout his first year in office, Secretary Salazar has worked with the industry, the environmental community and the general public to expedite the construction of these cutting-edge power plants that will not only bring clean energy to the Southwest, but will also create tens of thousands of jobs. We are proud to name him SEIA's 2009 Solar Energy Champion of the Year. As we declared in the Solar Bill of Rights, the solar industry has the right to equal access to public lands and the right to interconnect to a 21st Century transmission grid. We look forward to working with Secretary Salazar on these important policies in 2010."
Last March, Secretary Salazar signed an order to make the production, development and delivery of renewable energy a top priority for the Interior Department. This order also created a task force that will prioritize transmission rights-of-way applications necessary to deliver clean energy generated in the solar-rich American Southwest to population centers around the country to meet growing energy demands.
In June, Secretary Salazar joined Senator Harry Reid to announce fast track initiatives that bring federal agencies together with leaders in Western states to designate U.S. public lands in the West as key areas for utility-scale solar development, fund environmental studies, open new renewable energy coordination offices and speed reviews of industry proposals. These policies will play an important role in encouraging development of utility-scale solar power in America's Southwest, which has some of the best solar resources in the world.
Since taking office, Secretary Salazar has set aside 1,000 square miles of public lands in 24 "Solar Study Areas"ť that have the potential to generate nearly 100,000 megawatts of clean, reliable solar energy. The secretary also announced, with Bureau of Land Management Director Abbey, a new program to fast-track review of specific solar energy projects in advanced stages of the permitting process. This effort applies to 14 solar projects representing 6,521 megawatts of capacity, which is enough electricity to power 1.6 million homes. In addition, these solar projects are estimated to create more than 20,000 jobs. These solar projects would be the first on BLM land and would occupy 67,00 acres. To put this into perspective, oil and gas companies now lease 45 million acres of federal land" an area the equivalent of Washington state.
###
About SEIA:
Established in 1974, the Solar Energy Industries Association is the national trade association of the solar energy industry. As the voice of the industry, SEIA works with its 1,000 member companies to make solar a mainstream and significant energy source by expanding markets, removing market barriers, strengthening the industry and educating the public on the benefits of solar energy. Learn more at www.seia.org.
SEIA President & CEO Rhone Resch is on Twitter: http://twitter.com/RhoneResch
SEIA is on YouTube - http://www.youtube.com/thesolarindustry - and
Facebook -
http://www.facebook.com/pages/Solar-Energy-Industries-Association/112495296809?ref=ts.
Read the Solar Bill of Rights at http://www.solarbillofrights.com
Background Materials:
Leadership by Salazar, Reid Will Help Create Jobs, Meet Energy Needs With
Solar, June 9, 2009: http://www.seia.org/cs/news_detail?pressrelease.id=451
Media Contact:
Monique Hanis, 202.556.2885, mhanis@seia.org
Jared Blanton, 202.556.2886, jblanton@seia.org
Mark Sokolove, Tigercomm, 703.302.8382, mark@tigercomm.us
Featured Product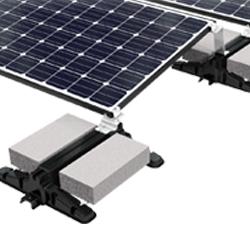 The Power Rail™ Commercial Mounting System is designed with the professional PV solar installer in mind. Both the XD/UD and LD/MD rails feature single tool assembly with the revolutionary patented RAD™ Lock-in-Place bolt for fast and secure module clamping. The high strength marine-grade aluminum rails include an integral wiring channel for securing cables and providing a professional finish.