• Submitted papers: more than 830 research and industry papers • Record number: Contributions from 65 countries
1 February 2010 - ETA-Florence Renewable Energies and WIP Renewable Energies (WIP) organizers of the 18th European Biomass Conference (3-7 May 2010) and Exhibition (3-6 May 2010), taking place in Lyon, France, report that more than 830 scientific and industry papers have been submitted.

The global interest in the European Biomass Conference is evident in the soaring number of 65 countries where the submitted papers originated: All European countries, North and South America, Asia and Africa, as well as Australia have contributed. Most submissions originated from this year's host country France. A high number of contributions was received from other European countries, such as Germany, Italy, Austria, and the United Kingdom.
This international exchange on a high professional level proves the European Biomass Conference status as the "world's international biomass event for a specialist audience".
The submission of the high number of contributions from all over the world reconfirms that the biomass topic is an essential and vital part of the political, scientific and industrial efforts concerning the further development of renewable energies. International experts, from all areas of the biomass sector, will meet at the 18th European Biomass Conference and Exhibition in Lyon and share their ideas and findings with a specialist audience.
The greater share of submitted abstracts (39%) was received for the topic of Biomass Conversion. Biomass Resources made up for 20% of abstracts and 16% were submitted for Biofuels. The topics Biomass Markets and Biomass Policies accounted for a total of 25% of the abstracts.
The Conference will focus on the future development of biomass and its potentials, such as the European SET Plan, with the June deadline for the National Renewable Energy Action Plans. Prof. Josef Spitzer, Conference General Chairman, states: "It is impressing to see how the global biomass R&D community responded to the Call for Papers. This number is showing that we are able to continue the trend of growth. I also find it encouraging that bioenergy stays high on the agenda, in spite of the very difficult times world economy is going through. Biomass is a key to our sustainable energy future and this Conference and Exhibition is at the heart of the global developments in this area; in science, technology, industry and applications. It is my great pleasure to chair this leading platform for the whole biomass value chain. The Conference subjects cover the entire range of bioenergy and bio-materials issues: resource availability, conversion technologies, demonstration projects, integration in the energy system, environmental impact and market deployment as well as the need for policy actions. Presenters and participants will be able to learn about the latest developments in these subjects and to exchange personal views. Together with the opportunity to see practical applications of bioenergy systems in the exhibition, this will make it worthwhile to come to Lyon."
Over the next few weeks, the international Scientific Committee, comprised of more than 100 experts in their respective fields, will evaluate all abstracts submitted. In mid-February, the Committee will make its final selections, on which the programme of the 18th European Biomass Conference will be based.
Visit the website www.conference-biomass.com for Exhibition space reservation, Conference registration, late abstract submission and for further general information.
Event Background
For 30 years now, the European Biomass Conference and Exhibition (European BC&E) has combined a very renowned international Scientific Conference with an Industry Exhibition. Since 2007 the Conference and Exhibition takes place every year. The European BC&E is held at different venues throughout Europe and ranks as the world's leading event in the biomass sector.
This year's European BC&E will be held in Lyon, France. The Conference is expected to attract about 1,500 participants from more than 70 countries. It is supported by the European Commission, by ADEME - the French Environment and Energy Management Agency, UNESCO - United Nations Educational, Scientific and Cultural Organization Natural Sciences Sector, WCRE - the World Council for Renewable Energy, and EUBIA - the European Biomass Industry Association.
Press Inquiries:
18th European Biomass Conference and Exhibition Press Office
Catherina Bernaschina, e-mail: pressoffice@etaflorence.it
Tel. +39-055-5002280, Fax: +39-055-573425
MetaCom Corporate Communications GmbH
Bruchköbeler Landstrasse 37, 63452 Hanau, Germany
Bernhard Krause, e-mail: Bernhard.Krause@go-metacom.de
Tel. +49-6181-9828020, Fax: +49-6181-9828010
Featured Product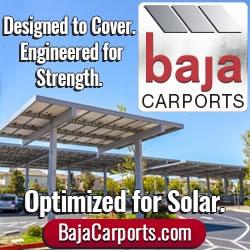 Baja Carports offers an extensive solar support system product line customized to customers' site specifications by in-house engineers, meeting their parking lot coverage, plus optimal PV production needs. Baja's Full Cantilever Tee is often paired with its Semi and Full Cantilever carports to meet live/loads up to 60psf and wind speeds to 160mph. All Baja products are pre-fabricated, bolted connections, pre-galvanized structural steel for fast on-site installation and project aesthetic requirements."