Ontario's lucrative Feed-in-Tariff (FIT) program for renewable energy will mean the development of new and highly efficient energy technologies that will secure the Province's clean energy supply for generations
TORONTO - Ontario's lucrative Feed-in-Tariff (FIT) program for renewable energy will mean the development of new and highly efficient energy technologies that will secure the Province's clean energy supply for generations, says the Chairman of Atlantic Wind and Solar Inc (AWSL), one of North America's most promising young renewable energy companies.

"A lot of other companies are struggling right now in an effort to be able to meet the local content requirements for the FIT program while keeping high levels of efficiency output in place," says Gilles Trahan, Chairman of AWSL. "We are one of the only companies who are in a position to meet all of the Ontario government's Ontario content rule requirements, while delivering up to 40% more energy efficiency than our leading competition."
Since the Ontario Power Authority launched the Province's new FIT program last October, AWSL and other green power/renewable energy companies have focused on the enormous rooftop solar energy opportunities across Ontario, particularly in commercial developments.
AWSL is working with companies in the real estate and property management sectors in Ontario to secure rooftop leases suitable for AWSL's photovoltaic (PV) renewable energy system.
AWSL continues to achieve encouraging results from its focused campaign to market its high efficiency Solar Energy rooftop systems across Ontario. Letters of intent (LOI) covering 20 additional rooftop projects and encompassing an additional 6MW of the Company's Solar Energy systems have been received by AWSL or its affiliate Hybridyne Power Systems Canada Inc. from various commercial sectors that include Agricultural, manufacturing, property developers and managers. These new LOIs bring the total number of solar energy projects represented by LOIs, purchase orders and/or advanced negotiations to approximately 30, encompassing more than 12 MW of electricity-generating capacity.
Power generated by these projects will be sold directly into the grid through Power Purchase Agreements (PPA) contracted to the Ontario Power Authority (OPA) for 20 years, at an average price of 71.3 cents per kilowatt hour.
Brent O'Connor, Investor Relations director for Atlantic stated "The PPA's represent approx $480 million in revenues for AWSL and its equity partners, secured and guaranteed over the next 20 years directly by the Ontario Government." Mr. O'Connor further stated that "an additional $160 million in gross equipment sales and installations is also expected to be generated for AWSL and its equity partners through these 30 rooftop projects. And this is only the beginning."
Until recently, renewable energy projects in Ontario have been held up due to difficulties in getting financings. However the purse strings are loosening for these future corporate giants.
Tom Rand, head of the clean technology practice at MaRS Discovery District and co-organizer of the renewable energy financing conference held in Toronto last month, said that under the province's feed-in-tariff program, the investments are as safe as a 20-year government bond that pays 8 to 12 per cent per year, and guarantees quick connection to the grid.
AWSL has received $3.5 million USD, in funding to date. The funds are being used to finance current projects, and AWSL expects to complete a major financing in the near future.
As a result, more and more stakeholders are now getting involved in the sector, with Atlantic leading the way.
"The race is on to develop more efficient renewable energy technologies, which will have the effect of not only managing energy costs in the long term, but also securing a source of clean renewable energy for Ontario's citizens," Trahan said. Citing studies that have shown Ontario to have solar and wind resources that are superior to those of Germany, Europe's leading renewable energy-using nation, Trahan noted: "As long as the sun shines and the wind blows, Ontarians will have clean energy."
Wholly-owned subsidiary Atlantic Solar Inc. has entered into a partnership with The Remington Group Inc., one of the leading commercial and residential real estate developers in Ontario, for the installation of up to $15 million of the Company's solar energy parks on Remington-owned rooftop facilities.
The purchase and installation of these eco-friendly renewable energy systems will be financed by a 50/50 joint venture between Remington Group and AWSL through a Limited Liability Partnership (LLP.)
Through its 47.5%-owned Canadian affiliate Hybridyne Power Systems Canada Inc. (HPSC), AWSL is also in the process of installing a turnkey 2000 Kw peak capacity photovoltaic (PV) energy park with a projected capex of approximately $16.8 million in Brownsville, about 80 kilometers east of Toronto on the outskirts of Newcastle, Ontario.
When the Brownsville project is completed later this year, the 10-acre solar energy park, with more than 90% Canadian and 50% Ontario content, will deliver enough clean energy to power more than 360 gas-heated homes each year.
In December, 2009, AWSL announced that it had commissioned the first Hybrid Renewable Energy Supplemented Data Centre in North America. The groundbreaking system was constructed over the previous 6 months for Pizza Pizza Limited.
Superior technology is key to the Company's success.Proprietary technology gives Atlantic Wind and Solar a significant advantage in marketing its renewable energy systems: An advanced Converter/Inverter Technology (CIT), which is specifically designed to convert direct current(DC) energy from the photovoltaic panels into usable alternating current AC) electricity for the Ontario utility grid, provides up to 30 percent more kilowatt hours per year of clean, renewable electricity compared to conventional inverter technology. This advanced technology, while slightly more expensive than current inverter technology, has less of a "drop-off" rate (efficiency loss), providing a significantly higher return on investment for the Company's systems.
The building owner can be paid in a number of ways: a percentage of annual electricity revenues from the system, a fixed price per square-foot of rooftop being leased to host the system, or a joint venture partnership.
Last October, AWSL announced the formation of a strategic relationship with leading real estate and property management company Cushman & Wakefield Ltd. to secure rooftop leases in Ontario for its photovoltaic (PV) Solar Energy Park renewable energy systems.
Trahan said the Province signaled its long-term energy strategy with the cancellation of two nuclear energy projects last year, deeming them too costly to build and maintain.
AWSL, which trades in the U.S on the over-the-counter market, is pursuing a listing on a senior stock exchange in both Canada and the U.S.
The Company also plans to sell its CIT technology into European markets, where customers pay more for energy compared to North Americans, and get their renewable energy from installations that are 10 years old or more and less efficient than today's technology.
For further corporate information and/or to subscribe for regular news updates from Atlantic Wind & Solar, www.atlanticwindandsolar.com
Or call Mr. Brent O'Connor at 1-800-891-1657 ext. 223
Featured Product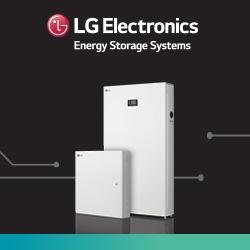 The NeON R module features "Back Contact" cell technology delivering an entirely black panel that is aesthetically pleasing and energy efficient. The cell's seamless, surface blends perfectly into nearly all rooftop designs while the module's electrodes are positioned on the rear of the cell. Using LG's N-type cell structure, the panels produce 365W of energy, up to 7.3kWp, compared to 5.8kWp of the p-type cell. The module's new design minimizes LID, thereby delivering a longer lifespan and increased energy output.