Start-up companies from 13 states will present their business plans at the InvestMidwest Venture Capital Forum on March 24-25 in St. Louis. Fifteen of the presenting companies specialize in clean-tech/alternative energy.
Forty-five entrepreneurial growth companies from 13 states are busy preparing for a unique opportunity to present their business plans to an audience of the nation's top venture capitalists, corporate and private investors, and investment bankers at the 11th Annual InvestMidwest Venture Capital Forum. Set for March 24-25 at the Wells Fargo Advisors University Learning Center in St. Louis, Mo., the event will be the largest InvestMidwest forum to date. The applicants were reviewed by a panel of experts, and the companies were selected based on their value proposition, products/services, financial summaries, management teams and marketing strategies and opportunities.

This year's selected presenters include companies from Arkansas, Colorado, Illinois, Iowa, Kansas, Kentucky, Michigan, Missouri, Nebraska, Ohio, Oklahoma, Utah and Wisconsin.
"We are very pleased with the response we received for the 2010 forum," said Chris Walsh, executive director of InvestMidwest. "We received a significant number of diverse applications from companies across the country, and we're excited for the 45 presenters we've chosen to make their official pitches. Based on what we've seen from them so far, investors in attendance will be exposed to some exceptional investment opportunities."
This year, InvestMidwest will once again feature three separate industry tracks of companies presenting concurrently: a life sciences track, a technology track and an alternative energy/clean technology track. The early registration deadline for investors who want to attend the forum is Friday, March 5. Details regarding the registration process and fees are available at www.investmidwestforum.com.
Since its first forum in St. Louis in May 2000, InvestMidwest has helped generate more than $400 million in equity investments for many innovative entrepreneurial growth companies. Considered by many as the Midwest's premier annual venture capital forum, InvestMidwest's mission is to provide access to equity capital for emerging, privately held companies seeking venture funds from $1 million to $20 million.
Each of the companies selected to present at this year's forum show potential to generate $20 million in annual revenue growth within five years. These firms represent a broad range of industries and are developing products and services that address many of the global issues making recent headlines. The alternative energy/clean technology track will showcase presenters whose ultimate goal is to enhance energy efficiency, whether it be by developing ways to expand wind power or by utilizing technology that converts waste into renewable energy, electricity or biofuels. Presenters in the technology track include companies that deal with cloud management, production of aluminum nitride crystals and software that addresses the efficiency of first-responders, as well as an online search engine connecting buyers and suppliers in the chemical industry. The life sciences track will feature several innovative medical device firms and will also include biopharmaceutical companies focused on enhanced diagnostics and the development of drugs that could potentially treat and cure human diseases and disorders.
As an additional highlight, the 2010 forum will feature presentations by two renowned speakers. Murray Weidenbaum, who currently holds the Mallinckrodt Distinguished University Professorship at Washington University in St. Louis and also serves as honorary chairman of the University's Weidenbaum Center on the Economy, Government, and Public Policy, will serve as the breakfast speaker. Recognized for helping to formulate the economic policy of the Reagan Administration, Weidenbaum was a key spokesman for the Administration on economic and financial issues during his time as President Reagan's first chairman of the Council of Economic Advisers. He will share his insight and experience at 8 a.m. on Thursday, March 25. David W. Checketts, founder and Chairman of SCP Worldwide and principal owner and chairman of the St. Louis Blues NHL team, is serving as the luncheon speaker. He will share his experience as one of the most heralded sports, media and entertainment executives at 12:30 p.m. on Thursday, March 25.
The 11th annual InvestMidwest Venture Capital Forum is supported by a diverse group of public and corporate sponsors. Organizational sponsors include the St. Louis Regional Chamber and Growth Association (RCGA), Missouri Venture Forum, Kansas Technology Enterprise Corporation (KTEC), KCSourceLink and The Greater Kansas City Chamber of Commerce.
For more information, visit www.investmidwestforum.com or call 314.444.1151.
Featured Product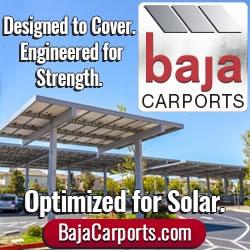 Baja Carports offers an extensive solar support system product line customized to customers' site specifications by in-house engineers, meeting their parking lot coverage, plus optimal PV production needs. Baja's Full Cantilever Tee is often paired with its Semi and Full Cantilever carports to meet live/loads up to 60psf and wind speeds to 160mph. All Baja products are pre-fabricated, bolted connections, pre-galvanized structural steel for fast on-site installation and project aesthetic requirements."