Tigo Energy announced today that Japanese distributor, Copia Energy KK, has joined its global distribution network for the Tigo Energy® Maximizer™ Solution.
TIGO ENERGY ANNOUNCES KEY JAPAN DISTRIBUTION PARTNER

FOR THE TIGO ENERGY® MAXIMIZER™ SOLUTION
Tigo Energy to Participate in PV Japan 2010, June 30-July 2
LOS GATOS, Calif., June 28, 2010 - Tigo Energy, the solar company whose unique technology significantly increases efficiency in photovoltaic (PV) solar installations, announced today that Japanese distributor, Copia Energy KK, has joined its global distribution network for the Tigo Energy® Maximizer™ Solution.
As part of the agreement with Copia Energy, the Tigo Energy Maximizer Solution will be available for ordering through the Copia Energy catalog and website.
Tigo Energy has received strong demand for its Maximizer Solution since introducing the technology in late 2009. The Maximizer Solution creates smart modules that provide up to a 20 percent increase in energy production, active management capabilities and enhanced safety for utility, commercial and residential PV solar arrays.
"The Tigo Energy Maximizer Solution works in harmony with existing PV system components to increase the energy harvest, system visibility and operational safety of residential, commercial and utility-scale PV systems," said Shin Morimoto, founder and CEO of Copia Energy.
"We are pleased to be working with Copia Energy, a prominent leader in the wholesale distribution of green energy systems and equipment," said Jeff Krisa, Tigo Energy Vice President of Sales and Marketing. "We believe Copia Energy's PV expertise and deep commitment to green energy will help introduce the benefits of the innovative Tigo Energy Maximizer Solution across the Japanese market."
Tigo Energy at PV Japan 2010
Tigo Energy will be offering demonstrations of the Maximizer Solution at PV Japan 2010 (Booth P-B204 at Pacifico Yokohama). An analysis of real-world PV systems and side-by-side comparisons with and without the system will be available, as well as more information about how Tigo Energy can dramatically improve residential, commercial and utility-scale systems in new and retrofit installations. Additionally, Tigo President Ron Hadar will be available for questions.
Since launching the Maximizer solution, Tigo Energy has expanded its distribution channels to include leading companies such as AEE Solar and DC Power in the United States, Enerpoint in Italy, SunConnex in Western Europe, TechnoSun in Spain and now Copia Energy KK in Japan. For a complete list of regional distributors, visit http://www.tigoenergy.com/distributors.html.
Tigo Energy has developed its innovative Maximizer technology aimed at accelerating the adoption of today's photovoltaic components and technologies by addressing each of the barriers to adoption. The company's technology has been installed on hundreds of PV systems worldwide including many large-scale commercial projects.
With power electronics and software, the Maximizer Solution boosts the output of solar arrays up to 20 percent by implementing maximum power point control at the module level, eliminating the impact of underperforming panels on the stronger panels. The Maximizer solution is compatible with all leading PV panels and inverters and offers a 20-year product warranty.
About Tigo Energy
Based in Los Gatos, Calif., Tigo Energy was founded in 2007 and focuses on applying innovative technologies to the solar PV space. Tigo Energy has offices in the United States, Japan, Germany and Israel and is commercially shipping volume systems in cooperation with most prominent worldwide solar distributors and EPCs. Additional information on Tigo Energy is available at: www.tigoenergy.com.
About Copia Energy
With a decade of global PV industry participation, its founders created Copia Energy to promote green energy in Japan, following the guidelines established in the Kyoto Protocol. It has a dynamic record in the Japanese market and works in partnership with leading Japanese and European leaders in the solar industry. Additional information on Copia Energy KK is available at: www.copiaenergy.com
###
Contact: Daniel Francisco
Francisco Group for Tigo Energy
916-293-9030
dan@franciscogrp.com
Featured Product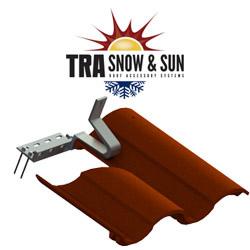 You haven't installed a tile mount that is easier to install than the Solar Tile Mount manufactured by TRA Snow and Sun. Solar Tile Mount is used on all tile roof profiles: flat, mid, and high. It is made in the USA of aluminum alloy for strength and excellent corrosion resistance. Solar Tile Mount is built to allow more ease in installation with more rise from the tile surface to the rail for better air flow below panels. The adjustable base is longer than most allowing attachment 6" to the left or right to have the bracket in the base of the pan of the tile and still fasten to the rafter. Solar Tile Mount is adjustable for counter batten systems from ¾" to 3". The horizontal rail is directly above base fasteners giving greater uplift resistance than any other system. For superior waterproofing apply TRA Snow and Sun's butyl backed VersaFlash aluminum flashing. No tile flashing is needed on top of the tile for greater labor and material cost savings.