Join the 2011 Green IT Economic Summit Conference in hosting some of the most dynamic Green IT companies in the world, April 20-21, 2011 at the Ritz Carlton in Tysons Corner, Virginia.
Second annual conference to feature 25 top Green IT technology companies

Join the 2011 Green IT Economic Summit in Tysons Corner, Virginia on April 20-21, 2011. The Second annual Green IT Economic Summit will feature approximately 25 of the world's top technology firms, dozens of high profile speakers and exclusive panels geared toward a national audience of CXOs, private equity investors, and executive entrepreneurs.
The Green IT Economic Summit has featured over 25 of the most dynamic technology and business speakers including names like Christopher Mines, Sr. Vice President, Forrester Research and Raj Kosuri, CEO and CTO of EcomNets to name a few. Green IT Economic Summit speakers are thought leaders who inform, educate and inspire the leaders of the new economy.
We are very excited for the Green IT Economic Summit event that will feature over 25 leading experts and discuss the leading Green IT technologies in 6 sessions:
• Mapping the Green IT Economics: Keynote Address by Chris Mines
• Enterprise Carbon and Energy Management Systems
• Data center application rationalization.
• Cloud Computing and Green IT Economic Impact
• Infrastructure Virtualization
• Green stimulus spending
• Get Ready for Green IT 2.0
The Green IT Economic Summit strives to support entrepreneurial activity, innovation and the resultant Green IT economic development of the North America.
Green IT Economic Summit 2011 announced for Tysons Corner, VA
Featured Product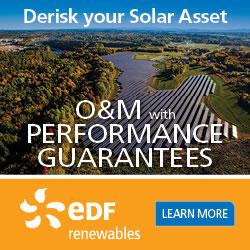 EDF Renewables offers the same innovative solutions that maximize the performance of our own 5.2 GW of installed projects. Because we're not an equipment manufacturer, our recommendations are transparent and data-driven. We cover the entire project lifecycle: from pre-commissioning support, through warranty and post warranty operation, to late stage and decommissioning.