Three-time Pulitzer Prize Recipient Will Join GE Executive to Examine Theories and Solutions for Accomplishing World Energy Goals
September 2, 2010 - Washington, DC - The GridWise® Alliance today announced that New York Times foreign affairs columnist and Pulitzer Prize winning author Thomas Friedman will join Jeff Immelt, Chairman and CEO of GE, in a discussion of the planet's energy future and the role of smart grids during the GridWise® Global Forum, September 21-23 in Washington, DC.

This "fireside chat" will present a futuristic view from two different perspectives. Mr. Friedman, an internationally renowned author, reporter, and columnist will share his views on global energy matters gleaned from extensive travels throughout the world; Mr. Immelt, an industry leader will provide his perspective on the ways world energy infrastructures will be modernized and transformed in the next two decades.
"The dialogue between Tom Friedman and Jeff Immelt will provide interesting insights into the impact of smart grid on our energy future," said Katherine Hamilton, GridWise Alliance President. "The foundation of the GridWise Global Forum was built around engaging notable thought leaders through intimate discussions such as this one."
Saul Griffith, PhD, Chief Scientist at Other Lab, will follow Friedman and Immelt's conversation with a unique presentation on energy innovation. Griffith is a world renowned inventor who has brainstormed on how innovation can solve any number of issues, including climate.
Entitled "Polishing the Crystal Ball," the series of forward-thinking discussions and demonstrations lead by Friendman, Immelt and Griffith will be held on Thursday, September 23 at 8:30 am. Media is invited to attend.
For more information about the GridWise Global Forum and to register for the event, visit: www.gridwiseglobalforum.org.
The GridWise Alliance, founded in 2003, is a coalition of public and private stakeholders that advocates for a smarter grid for the public good. The Alliance facilitates the effective collaboration among stakeholders, to promote, educate, and advocate for the adoption of innovative smart grid solutions. These solutions will achieve economic and environmental benefits for customers, communities, shareholders and society. GridWise Alliance members include utilities, IT companies, equipment vendors, new technology providers and academic institutions.
For more information about the GridWise Alliance, visit: www.gridwise.org.
Featured Product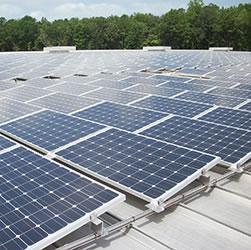 The Power Rail™ Commercial Mounting System is designed with the professional PV solar installer in mind. Both the XD/UD and LD/MD rails feature single tool assembly with the revolutionary patented RAD™ Lock-in-Place bolt for fast and secure module clamping. The high strength marine-grade aluminum rails include an integral wiring channel for securing cables and providing a professional finish.