Renewable Energy Group grows national footprint by acquiring assets in New Mexico 15 million gallon-per-year biodiesel facility.
Renewable Energy Group® (REG) will acquire biodiesel assets from ARES Corporation, which will concurrently invest an additional $8 million into REG, in an all common stock transaction. ARES owned a 15 million gallon-per-year biodiesel facility, located in Clovis, New Mexico.
"In support of RFS2, REG continues to expand its national footprint of production facilities and related logistics to better serve our growing customer base of regional and national businesses. We consider this position in the Southwest to be a long-term, strategic move for our company," explained Daniel J. Oh, President and Chief Operating Officer of Renewable Energy Group. "ARES' strategic investment provides REG access to ARES' world class engineering, risk management and government contracting expertise."
"REG has proven its leadership in the biodiesel industry and is exceptionally well placed to lead the industry recovery," stated Richard (Dick) Stuart, ARES Corp. Chief Executive Officer.
Stuart added, "ARES is proud of its efforts to contribute to America's quest for energy independence and a cleaner environment. In our new economy we believe the best and most likely place for our investment to succeed is with REG; therefore we are contributing assets and investing anew to help move REG and its efforts forward."
"Renewable Energy Group has shown strong biodiesel industry leadership when it comes to creating green collar jobs at its industry leading biodiesel production facilities," said Clovis Industrial Development Corporation Executive Director, Chase Gentry. "We look forward to REG's involvement in this ongoing green economy project as the City of Clovis, State of New Mexico and the Southwest region look to reduce our dependence on imported oil and improve our air quality."
Featured Product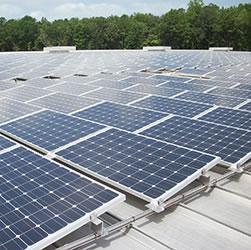 The Power Rail™ Commercial Mounting System is designed with the professional PV solar installer in mind. Both the XD/UD and LD/MD rails feature single tool assembly with the revolutionary patented RAD™ Lock-in-Place bolt for fast and secure module clamping. The high strength marine-grade aluminum rails include an integral wiring channel for securing cables and providing a professional finish.