The California Energy Commission Makes Plug-in Electric Vehicles Within Reach of LA Metro Riders with Largest Transit Agency Rollout
LOS ANGELES, Calif. -- October 18, 2010 - The California Energy Commission

recently announced EV Connect, a leading provider of electric vehicle infrastructure
solutions (EVISs) and the Los Angeles County Metropolitan Transportation Authority
(Metro) will be conducting a pilot program to assess the integration of PEV's into the
transportation network and consumer behavior and ridership patterns.
"This project will bring the city of Los Angeles closer to achieving its goal of reducing
greenhouse gas emissions 35 percent below 1990 levels by 2030," said Energy
Commissioner Anthony Eggert. "The Energy Commission is proud to be a part of this
first-of-its-kind PEV infrastructure rollout with EV Connect and Metro."
This pilot project aims to understand the viability of a PEV-transit network and establish
best practices that optimize the consumer experience while reducing the carbon footprint
of Los Angeles. The transportation sector alone accounts for 40 percent of greenhouse
gas emissions in the State of California, six percent higher than the national average.
Completion of this project and its potential as a major transit component will further
reduce priority air pollutants and greenhouse gas emissions in the City and County of Los
Angeles.
"We are looking forward to the success of this pilot effort, which will encourage drivers
of plug-in electric vehicles to use Metro while charging their vehicles at our transit
stations," said Metro Board Chair and Los Angeles County Supervisor Don Knabe. "At
Metro we demonstrate best practices in sustainability with over 2,500 clean air buses
along with a commitment in building all new transit facilities to LEED standards. This
project is another example of how Metro is protecting the environment."
EV infrastructure will be integrated at strategic points at the end of the system, such as
Canoga and Sierra Madre, as well as at heavy traffic locations such as Union Station and
Universal City. One objective of the study is to understand if the integration of EV
charging solutions into Metro's system will enhance the transit experience for patrons
and attract others to consider charge and ride in their daily commutes.
"This is the first study of its kind to analyze the integration of EV solutions into a transit
network," said Jordan Ramer, CEO of EV Connect. "The data procured from this study
will establish industry benchmarks on charge and ride commuters which will help shape
the future of multi modal transportation."
About EV Connect, Inc.
EV Connect, an EV industry veteran and visionary, delivers best of breed electric vehicle
infrastructure solutions (EVISs), applying its deep expertise to help OEMs design,
engineer, install and maintain EV infrastructures. EV Connect is working to unify
charging technologies in order to build a seamless Electric Superhighway. Based in
Huntington Beach, California, EV Connect is driving EV adoption forward for
commercial customers and EV industry partners alike. For more information please visit
www.evconnect.com.
About the Los Angeles County Metropolitan Transportation Authority
The Los Angeles County Metropolitan Transportation Authority (Metro) is unique among
the nation's transportation agencies, serving as the regional transportation planner and
coordinator, designer, builder, operator, and funding partner for Los Angeles County.
Metro's core mission is to ensure the continuous improvement of an efficient and
effective transportation system for Los Angeles County. Metro has emerged as a leader
in advancing and implementing sustainability initiatives and has received national
recognition for its unique approach to solving sustainable transportation related issues.
Please visit www.metro.net/sustainability for more information.
Featured Product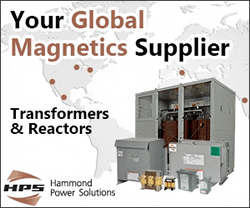 HPS is the largest manufacturer of dry-type transformers in North America. We engineer and manufacture a wide range of standard and custom transformers that are exported globally in electrical equipment and systems. We support solid industries such as oil and gas, mining, steel, waste and water treatment, and wind power generation. HPS leads the industry in these markets through its technical design strength, breadth of product, and manufacturing capabilities, making HPS a stronger company both fundamentally and financially.