Policy, financial, and technology leaders set the stage for an era of new collaboration to advance renewable energy in America
Washington, D.C. - December 14, 2010 - At the 7th annual Phase II Policy Forum, the American Council On Renewable Energy (ACORE) found optimism for the upcoming 112th Congress, asserting that both political parties want the economic growth and jobs provided by wind power, solar energy, hydropower, geothermal energy, biomass energy and fuels.

At ACORE's Phase II Policy Forum held on Capitol Hill, Michael Eckhart, President of ACORE, explained that the balance of power for the upcoming 112th Congress, where the House of Representatives and the White House are held by different parties and the Senate has a near equal split between Republicans and Democrats, is the pattern that has historically been the most productive in terms of generating legislation.
"This summit has set the table for a productive legislative session and has already shown results for bi-partisan cooperation as well as forging new cross-industry collaboration," Eckhart said.
The Phase II Policy Forum laid the groundwork for a new, bi-partisan renewable energy policy platform of commitment, innovation, finance and education. Featuring industry and financial experts in addition to key lawmakers representing both the conservative and liberal agendas, the Forum presented an opportunity to find common ground on the critical issues facing renewable energy: jobs and economic development, national security, and the environment and climate.
Four major developments were announced at the Forum. The first came from U.S. Representative Chris Van Hollen (D-MD) who declared in the Forum's afternoon session that it looked like Republican leadership was going to include a successful policy adjustment (known as the 1603 cash grant in lieu of tax credits) into the Tax Extenders Bill. ACORE and its program, the US Partnership for Renewable Energy Finance (US PREF), have urged Congress to extend the 1603 cash grant program because of its positive impact on American jobs and businesses.
"We are specifically calling on the U.S. government to extend the U.S. Treasury grant renewable energy program, which has played an important role in financing renewable energy projects during the past two years," said Kevin Walsh, managing director and leader of power and renewable energy at GE Energy Financial Services.
In a second announcement, Eckhart announced a strategic alliance between ACORE and the Natural Gas Supply Association (NGSA) proposing that energy regulators adjust their rules to allow natural gas power plants and renewable energy projects to participate jointly in electricity markets.
"The leadership of ACORE and NGSA have agreed to promote a collaborative industry effort to identify federal policies that may be hampering natural gas and renewable partnerships in competitive power markets," Eckhart said. "We have a couple of preliminary ideas and are excited to explore those and others in pursuit of options that align the industries and contribute to a stable and well-functioning electric grid."
FERC Chairman Jon Wellinghoff indicated support for the concept, indicating that there is potential to further the deployment of utility scale renewable energy by partnering those projects with natural gas combined cycle plants. In addition, Chairman Wellinghoff expressed interest in assessing the feasibility of the Renewable Energy Standard Offer (RESO) proposal put forward by ACORE.
Also in the renewable fuels arena, Jeff Broin, President of the large ethanol producer, POET, called for a redirection of the ethanol tax credit to fund distribution infrastructure, and for all vehicles sold in the U.S. to have more flex fuel capability.
Other Phase II speakers included: Dan Arvizu, Director, National Renewable Energy Laboratory (NREL); Jeff Broin, President, POET; McKie Campbell, Republican Staff Director, Committee on Energy and Natural Resources, United States Senate; U.S. Representative Bob Inglis (R-SC); Gary Locke, U.S. Secretary of Commerce, U.S. Department of Commerce; Arun Majumdar, Director, ARPA-E, U.S. Department of Energy; Dan Reicher, Executive Director, Steyer-Taylor Center for Energy Policy and Finance, Stanford University; Bob Simon, Staff Director, Committee on Energy and Natural Resources, United States Senate; U.S. Senator John Thune (R-SD); and Ethan Zindler, Bloomberg New Energy Finance.
The Forum was webcast live by Verizon and replays of the discussions are available at www.acorephaseii.com.
About ACORE
The American Council On Renewable Energy (ACORE), a 501(c)(3) membership non-profit organization headquartered in Washington, DC, is dedicated to bringing renewable energy into the mainstream of the U.S. economy and lifestyle through research and communications programs and membership committees. ACORE's membership works in all sectors of the renewable energy industries including wind power, solar energy, geothermal energy, hydropower, ocean energy, biomass, biofuels, and waste energy. ACORE provides a common platform for the wide range of interests in the renewable energy community including end users, technology companies, manufacturers, utilities, professional service firms, financial institutions, colleges and universities, associations, non-profit organizations and government agencies. ACORE serves as a thought leadership forum through which these parties work together on common interests. ACORE co-organizes the REFF-Wall Street and REFF-West Finance Conferences, the RETECH All-Renewables Energy Conference and Exhibition, the Phase II National Policy Forum in Washington, DC, and hosts both domestic and global policy events furthering the mission of renewable energy. Additional information is available at www.acore.org.
Featured Product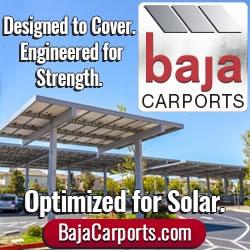 Baja Carports offers an extensive solar support system product line customized to customers' site specifications by in-house engineers, meeting their parking lot coverage, plus optimal PV production needs. Baja's Full Cantilever Tee is often paired with its Semi and Full Cantilever carports to meet live/loads up to 60psf and wind speeds to 160mph. All Baja products are pre-fabricated, bolted connections, pre-galvanized structural steel for fast on-site installation and project aesthetic requirements."