The PV Rollout workshop, a European American Solar Deployment Conference, will examine the technical, economic, and political hurdles to rapid and widespread PV deployment. Various perspectives, including political and commercial, will be considered.
The PV Rollout Conference offers a unique opportunity to learn and interact with the leading experts in the industry and become an authority in the field of solar energy! This event in Boston guarantees to be a great start or step forward for your company in the explosively growing photovoltaic's industry. This two day, bi-national conference seeks to combine European experiences and US market opportunities with rapid and widespread PV deployment.

Learn and discuss new solutions on existing problems in PV deployment and obtain high quality and state-of-the-art information regarding photovoltaic's.
Don't miss the chance to meet the leading PV industry experts from all over the world!
We are looking forward to welcoming you in Boston!
Featured Product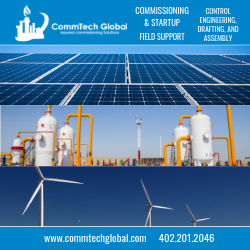 CommTech Global Solutions, LLC, provides professional and reliable commissioning services to customers in all realms of the energy industry. We blend our skills in engineering and technology with innovative business models, offering a complete range of services to assist you for a successful and in compliance operational startup. Consolidation of all our service domains gives our clients a comprehensive set of expertise and far-reaching experience on each project.