Worldwide Car Rental Brand Signs 2.48 MW Solar Contract
Los Angeles, Calif. - February 10, 2011 Martifer Solar USA is scheduled to engineer, procure and install 2.48 MW of solar PV at 15 locations across the U.S. for The Hertz Corporation.

The rooftop solar arrays will be at Hertz facilities in Arizona, California, Colorado, Georgia, Maryland, Massachusetts New Jersey, New York, and Pennsylvania. The 2.48 MW system will supply enough energy to power approximately 300 homes per year and will offset the CO2 emissions of 271,009 gallons of consumed gasoline annually.
"Hertz is distinguishing themselves as a true green business leader by implementing a solar system of this size," said Raffi Agopian, CEO of Martifer Solar. "I commend their commitment to sustainable business practices and their environmentally-aligned company initiatives."
In addition to the environmental benefits, the 15-site installation will save Hertz thousands of dollars in overhead and electricity costs. "Commercial entities that opt to integrate solar as a part of their corporate strategy can use PV as a unique method to cut costs and assist the company's bottom line," said COO of Martifer Solar, Kent James.
The 2.48 MW system is a part of the initial phase of Hertz's solar initiative. "We are looking forward to assisting Hertz throughout their transition to renewable energy," said Wade Webb, Martifer Solar's VP of Operations. "As a solar representative and environmental champion, it is a pleasure to work with such a reputable, worldwide company."
Samba Energy is providing the software platform and project management services across the Hertz facilities installations.
About Martifer Solar USA
Los Angeles based Martifer Solar USA, (www.MartiferSolarUSA.com) specializes in the design, engineering and installation of residential, commercial and industrial-scale photovoltaic (PV) electric systems and components. Martifer Solar USA has been installing systems within the U.S. since 2001. Martifer Solar is a division of the Martifer Group, (www.Martifer.pt), a publicly traded construction and renewable energy company. To date, Martifer Solar has over 100MW of solar assets worldwide.
Featured Product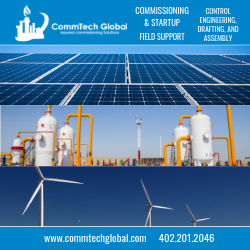 CommTech Global Solutions, LLC, provides professional and reliable commissioning services to customers in all realms of the energy industry. We blend our skills in engineering and technology with innovative business models, offering a complete range of services to assist you for a successful and in compliance operational startup. Consolidation of all our service domains gives our clients a comprehensive set of expertise and far-reaching experience on each project.