Source: SunPower Corporation The Greater Sandhill solar power plant began generating power on December 22, 2010 and is currently the largest operating PV solar power plant in Colorado. Greater Sandhill is generating enough power to serve the annual electricity needs of nearly 5,000 homes. Greater
Source: SunPower Corporation

The Greater Sandhill solar power plant began generating power on December 22, 2010 and is currently the largest operating PV solar power plant in Colorado.
Greater Sandhill is generating enough power to serve the annual electricity needs of nearly 5,000 homes. Greater Sandhill was constructed in nine months, creating more than 100 jobs during construction.
"Xcel Energy is pleased to provide solar energy from Greater Sandhill to our customers and eagerly anticipates adding more solar power in the San Luis Valley in the near future. This shows Xcel Energy's commitment to working in the Valley to bring clean renewable energy to Xcel Energy customers throughout the state," said Tom Imbler, vice president, commercial operations for Xcel Energy. "Our partnership with SunPower is vital in reaching our renewable energy goals at a reasonable cost to our customers."
The plant uses SunPower® Tracker systems, which generate up to 25 percent more energy than conventional systems while reducing land-use requirements. SunPower Trackers tilt toward the sun as it moves across the sky, increasing energy capture and providing more power on hot summer days when utilities need it most.Source: Sunpower Corporation
"SunPower's high-efficiency solar PV technology is competitively-priced for power plant applications, fast to install, and reliably delivers clean power, particularly during peak demand hours," said Howard Wenger, president of SunPower's utility and power plants business group. "We congratulate Xcel Energy for providing leadership in the promotion of large scale solar power development, and for demonstrating how renewable technologies are part of the solution to ensure the health of our economy and our environment."
MetLife and John Hancock Financial Services financed the third-party ownership of the plant.
SunPower is also constructing a 30-megawatt photovoltaic solar power plant, the San Luis Valley Solar Ranch, on 216 acres of private, former agricultural land in Alamosa County. Expected to be fully operational by the end of 2011, construction began at the end of 2010 and is creating approximately 100 jobs.
For the rest of the press release and more information, please follow the link to the Green Living Guy website.
Featured Product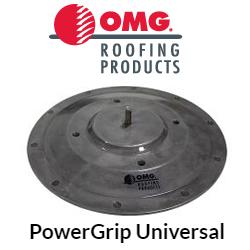 PowerGrip Plus Roof Mount System, a watertight structural attachment system used to secure ballasted solar racks and other equipment to roofs covered with thermoplastic (TPO and PVC) membranes. PowerGrip Plus is designed with wind performance in mind and offers ultimate tensile strength of 2,000 lbf. and ultimate shear strength of 1,075 lbf. Properly installed PowerGrip Plus units reduce rack movement and remaining watertight. PowerGrip Plus units are easy to install, saving both time and labor when compared to alternative options. A wide membrane skirt promotes easy welding in place, and the 15/8 diameter and 1/2 inch tall mount provides an optimal perch for securing brackets or struts. The exposed 1 inch tall and 3/8 inch diameter bolt and mounting stand are made from corrosion-resistant stainless steel and aluminum alloy for superior long-term performance.