With wind turbines spread over long distances in remote locations, FreeWave's radios provide an easily deployed, cost-effective and dependable solution for Turningpoint
TURNINGPOINT AND FREEWAVE TECHNOLOGIES PARTNER TO MITIGATE WIND TURBINE FAILURE THROUGH VIBRATION MONITORING SOLUTION

With wind turbines spread over long distances in remote locations, FreeWave's radios provide an easily deployed, cost-effective and dependable solution for Turningpoint
ANAHEIM, CALIF., AWEA WINDPOWER CONFERENCE, (Booth #1209), May 23, 2011 -- FreeWave Technologies, (http://www.freewave.com), manufacturer of the most reliable, high-performance spread spectrum and licensed radios for critical data transmission, today announced that it has been selected by Turningpoint (http://www.turningpointwind.com/) as its wireless data communications partner for its market-leading turbine vibration monitoring solutions. Turningpoint will use FreeWave's FGR2-PE industrial Ethernet radios to remotely monitor vibration data from multiple accelerometers on wind turbines and report the information back to the operations and maintenance (O&M) center for wind farm owners and operators around the world.
"If a turbine is experiencing a high amount of turbulence and vibration, this can be a precursor to turbine failure that can result in millions of dollars worth of damage and unavailability affecting a power purchase agreement (PPA) or other commercial contracts," explained Stephen Donovan, business development director of Turningpoint. "Our solution is able to provide early detection of impending issues and identify where remedial action can be implemented under a scheduled maintenance program. Identifying issues early reduces the risk of faults escalating and deteriorating into potential catastrophic failures. It's a great way to look at the general health of the turbine because it gives O&M technicians and operators the ability to predict and mitigate problems before they occur."
Originally, Turningpoint couldn't utilize the existing fiber optic network at one particular wind farm and didn't want to use costly satellite communications and questioned the reliability of cellular network communications. So, Turningpoint reached out to numerous communications technology companies, including FreeWave, to help devise a way to get the vibration sensing data from the wind turbine back to the O&M office.
"It is so important that operators look for a company that provides network design services and trial equipment to ensure the products will work before they purchase them, because there can be Line of Sight (LOS) and signal quality issues," said Ashish Sharma, chief marketing officer of FreeWave Technologies. After Turningpoint did its network design and compared multiple radios from several companies, it was able to determine which ones performed well despite the obstruction of the wind turbines themselves. For example, it found that one of the radios in the comparison would lose data each time a blade passed through the arc link.
"FreeWave went above and beyond helping set up our new wireless communication network," explained Donovan of Turningpoint. "Not only does the company continue to provide us with top-notch service and support, it also arranged for us to use its unrivaled diagnostics program called ToolSuite. With ToolSuite, the level of understanding of our radio frequency network has given us more visibility into the network."
"We are proud to partner with Turningpoint for these advanced wind energy deployments. The networks will bring significant operational efficiencies to Turningpoint's CBMS solution and help eliminate wind turbine failures for its customers," said Ashish Sharma, chief marketing officer of FreeWave. "Our radio solutions and diagnostics software are very suitable for wind energy applications with capabilities that can help reduce operating costs and improve customers' total cost of ownership. Our proven and feature-rich FGR2-PE solution enables reliable connectivity and helps deliver advanced data services for a variety of mission critical applications."
FreeWave now has many installations for Turningpoint in U.S. and Europe. Each turbine using FreeWave's radios is reporting its vibration data two to three times a day and has been successfully and consistently doing so for over a year.
"Our new wireless communication capabilities will allow us to enhance our CBMS health management solutions for our customers," said Donovan of Turningpoint. "With the success of the first several installations, FreeWave's solutions will continue to play an important role in the growing demand for dependable data communications in the wind energy sector."
About FreeWave Technologies
Founded in 1993, FreeWave Technologies manufactures the most reliable, high performance, lowest power consumption, spread spectrum and licensed radios for mission-critical data transmission. Through engineering excellence and a relentless commitment to best-in-class manufacturing, FreeWave customers enjoy superior network up-time, range and the lowest cost of ownership in its class. Based in Boulder, Colorado, FreeWave designs and manufactures radios that are the leading choice for oil and gas, utility, military and numerous other industrial applications. Organizations that count on radio data communications for operational trust FreeWave for custom network design, system engineering and customer support that is unparalleled in the market. For additional information, contact FreeWave directly at 866.399.4930 or at newsinfo@freewave.com. Visit the company's website at www.freewave.com.
About Turningpoint
When it comes to wind turbines, failure can be catastrophic. Turningpoint understands the consequences and that is why it developed Turningpoint. Its revolutionary new hardware and software will keep customers' business turning. Turningpoint technology warns of decreases in turbine machinery's efficiency and reliability. This eliminates non-specific breakdowns, preventing untimely crane call-outs and lost generation at peak times.
The company's hardware is simple to install, easy to monitor and it predicts parts failures with an accuracy built upon proven and exact vibration-analysis science. Importantly, it features flexible hardware connectivity to both wired Ethernet and wireless Ethernet environments.
In many parts of the world, condition monitoring and the wind industry are synonymous with one another. Vibration monitoring technology is regarded as so critical it is mandated by stringent insurance standards. This mandate recognizes that online surveillance is the most effective condition monitoring method available for wind turbines, dramatically minimizing production losses and the overall cost of maintenance.
In order to provide wind owners and operators with the best possible understanding of their turbine's operating condition, Turningpoint devices are designed to measure and record a wide range of parameters. This flexibility provides the ability to trend and trigger alarms so that operators can assess not only vibration related faults, but also wind turbine's performance.
Turningpoint is flexible, reliable and expandable in the field, boosting its customers' investments performance and their peace of mind.
Media Contact for FreeWave Technologies:
Christin Jeffers
Catapult PR-IR
303-581-7760 ext. 19
cjeffers@catapultpr-ir.com
Featured Product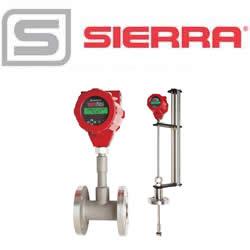 Sierra was the first to introduce a combination volumetric vortex and multivariable mass flow meter in 1997. Today, Sierra's completely redesigned InnovaMass® iSeries™ 240i/241i builds on two decades of success measuring five process variables for gas, liquid and steam with one connection. Now, with the latest hyper-fast microprocessors, robust software applications, field diagnostic and adjustment capability, and a new state-of-the-art flow calibration facility, Sierra's vortex iSeries delivers precision, performance, and application flexibility never before possible.