The SAEE's annually hosts its flagship event, the Southern African Energy Efficiency Convention (SAEEC2011) and exhibition, Energy Efficiency @ Work. This year is the 6th SAEEC2011 and will be held on 16-17 November 2011 at Emperors Palace, Gauteng, Johannesburg, South Africa.
The energy efficiency @ work convention and exhibition, the Southern African Association for Energy Efficiency Convention (SAEEC) is the flagship event of the SAEE and annually draws over 60 knowledgeable speakers from across the world to address a niche audience of delegates. Great opportunities are created for exhibitors to display their products, solutions and services to delegates that attend from across the country. Opportunities exists for persons to present case studies, share knowledge on new solutions and discuss matters surrounding the energy efficiency and related industries by presenting a paper. Sponsorship opportunities also exist.

The Southern African Association for Energy Efficiency (SAEE) is a non-profit energy efficiency co-ordinating body and is a chapter of the US-based Association of Energy Engineers (AEE). AEE is widely recognised for its energy certification programs and has over 13,000 professionals in 81 countries with a network of 71 local chapters world-wide.
For more information on the convention and exhibition logon to www.saeec2011.org.za.
Featured Product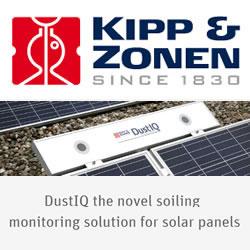 Soiling of the panel glass is one of the major problems in the rapidly expanding solar energy market, with the attendant loss of efficiency and reduction in performance ratios. Now, there's a new, simple and very cost-effective alternative. Based on Kipp & Zonen's unique Optical Soiling Measurement (OSM) technology, DustIQ can be easily added to new or existing solar arrays and integrated into plant management systems. The unit is mounted to the frame of a PV panel and does not need sunlight to operate. It continuously measures the transmission loss through glass caused by soiling, so that the reduction in light reaching the solar cells can be calculated.