GEM Inc., of Walbridge, OH, will design and build the energy system that powers the new Green Data Center at The University of Toledo. The UT project will be the second in the country and the first in Ohio.
The University of Toledo, the Ohio Third Frontier and Walbridge-based GEM Inc. are partnering to design, develop and commercialize a new power system that will drastically reduce power consumption and increase electric reliability at the campus data center.

The University of Toledo project will be the second Green Data Center in the nation and the first in Ohio. The new power system will reduce by 50 percent the amount of fossil fuel needed to power the University's data center. Construction will begin this fall and will be complete in late 2012.
Earlier this year, GEM Energy Management was awarded a $1 million hybrid loan by the Ohio Third Frontier to design, implement and commercialize the advanced gas turbine-based power system for The University of Toledo's campus data center.
The University of Toledo will use the technologies and packaging techniques that GEM Inc. designed and implemented for the world-class power system at Syracuse University's Green Data Center in conjunction with IBM in 2010.
"The University of Toledo is committed to advancing alternative energy research and commercialization, and we firmly believe in leading by example, which this new technology will help us do," said Lloyd A. Jacobs, MD, President of The University of Toledo.
The Ohio Third Frontier was instrumental in facilitating the project by providing loan funding.
"This is an important project, not only from an environmental standpoint, but also in terms of industry growth," said Norm Chagnon, Executive Director of Ohio Third Frontier. "The technology that comes from this collaboration will only enhance Toledo's reputation as a hot-spot for advanced energy and is an important investment in Ohio's economic future."
For the pilot project at The University of Toledo, GEM will develop and implement key technologies and techniques for its modular power system to reduce onsite installation requirements. Capstone Turbine Corporation will provide the Hybrid UPS MicroTurbines previously used by GEM Inc. for the Syracuse University Green Data Center. Thermax USA will provide a specially engineered and highly efficient chilled water module.
Hussien Shousher, President of GEM Inc., said, "We are pleased that our partners at The University of Toledo and the State of Ohio are implementing this exciting and efficient power system technology. Their support along with our key partner, Capstone Turbine Corporation, should help us rapidly increase market penetration of this technology. This type of project creates jobs here in northwest Ohio, and these jobs are helping to reduce the use of fossil fuels and increase the reliability of critical facilities. This 'triple impact' can be replicated at other data centers and government mission critical operational facilities."
Featured Product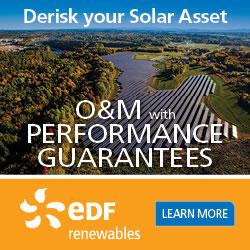 EDF Renewables offers the same innovative solutions that maximize the performance of our own 5.2 GW of installed projects. Because we're not an equipment manufacturer, our recommendations are transparent and data-driven. We cover the entire project lifecycle: from pre-commissioning support, through warranty and post warranty operation, to late stage and decommissioning.