MANCHESTER, UNITED KINGDOM—October 26, 2011—Supporting Scotland's goal to produce 100 percent of its electricity from renewable sources by 2020, GE (NYSE: GE) today announced it is supplying nine of its 2.75 megawatt wind turbines for the Little Raith Wind Farm project that recently began construction near Lochgelly in Fife, Scotland. The project marks the commercial debut of GE's 2.75 megawatt wind turbine technology in Northern Europe.

Little Raith is the first commercial wind farm to be built in Fife, which is Scotland's third largest local municipality by population. The nine-turbine wind farm will have an installed capacity of 24.75 megawatts of green energy, which represents an important step in reducing Fife's carbon emissions by 25 percent by 2013 as the county works to increase its production of cleaner energy.
GE expects to complete the wind turbine installation by 2012 for Manchester, United Kingdom-based Kennedy Renewables, which owns the Little Raith project.
"The Little Raith wind farm will play an important part of Fife's cleaner energy strategy and we are delighted to have selected GE Energy as our turbine technology supplier," said Kennedy Renewables CEO Stephen Klein. "GE is a global leader in the wind energy sector, and we look forward to benefitting from their expertise and efficiency through the build and operational phases of the project. A legacy project for the company, Little Raith will stand as a testament to our commitment to the renewable energy industry in Scotland."
GE's wind turbine technologies offer the reliability, availability and output that customers require to achieve their renewable production and economic goals.
"The deployment of GE's 2.75 megawatt wind turbine in Fife underscores GE's commitment to provide our customers with technological solutions that are well suited for the Scottish climate. Our 2.75 megawatt wind turbines deliver reliable electrical output that will provide Kennedy Renewables with a wind farm that will best meet their local energy and environmental requirements," said Stephan Ritter, GE Energy's general manager of renewable energy—Europe.
In addition to supplying the wind turbines, GE also will provide Kennedy Renewables with customer support for the Little Raith project under a five-year, full service agreement.
GE's ecomagination-qualified 2.75 megawatt wind turbine technology is the latest in the company's portfolio of multi-megawatt wind turbines developed to suit a variety of wind regimes, including the windier climate of Scotland. Page 2 of 2 GE October 26, 2011
The evolution of GE's multi-megawatt turbine design began with the 2.5 megawatt turbine introduced in 2004. GE's 2.5-100 rotor and the 2.75-103m rotor, build upon the maturity of their predecessors. Designed with high reliability to ensure continued operation in the field, GE's 2.75 megawatt 100 and 2.75 megawatt 103 units can provide customers with increased annual energy production levels and greater returns on their investments.
Featured Product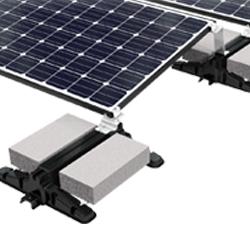 Preformed Line Products introduces the POWER MAX Ballasted Roof Mounting System. The POWER MAX solar mounting system is engineered to maximize energy output on commercial flat roofs. Developed with the professional installer in mind, this system offers adjustable inter-row spacing in the field of up to 11 inches. It features 50% fewer components and a simplified design resulting in faster assembly rates and labor savings on every project. Available in a flush mount, 5Ëš or 10Ëš tilt or higher density dual tilt design, the POWER MAX base arrives stacked on pallets providing easier transport to the roof. Engineered as a fully ballasted, non-penetrating system, it accepts standard concrete blocks and is qualified by wind tunnel testing.