Online registration draws to a close as SOLAR THERMAL '11 National Solar Heating and Cooling Conference draws near
Milwaukee, Wisconsin–

Only three days remain until the solar thermal event of the year takes place. The SOLAR THERMAL '11 National Solar Heating and Cooling Conference is drawing close and early registrants can take advantage of these final three days. Attendees who register online prior to Thursday, December 1st will receive a $50 discount off of the on-site registration cost. At SOLAR THERMAL '11, attendees can discuss the latest in solar thermal innovation as many special topics and forums will cover the latest in financing, policy issues and technical designs. The 24 exhibiting companies bring the latest in solar thermal equipment, certification, training and sales to the exhibit floor. The solar thermal event of the year happens this week! Register online now at http://www.solarthermalconference.org
SOLAR THERMAL '11 is a two-day conference and networking event for industry professionals including: installers, manufacturers, distributors, engineers, designers, policy makers, code officials, and trainers. The theme of SOLAR THERMAL '11 is "Connecting the Dots," representing an effort to speed solar thermal market transformation by "connecting the dots" across the industry. This one of a kind event will feature workshops, exhibits and presentations on the cutting edge field of solar heating and cooling. The Keynote speaker at SOLAR THERMAL '11 will be SRCC Vice-Chair, Mr. Mark Thornbloom. This year's event will take place December 1 & 2 at the Hyatt Regency Hotel in Milwaukee, WI. The conference agenda is available online NOW at : https://midwestrenew.org/stcagenda
Interested attendees, exhibitors and presenters should visit the official SOLAR THERMAL '11 website at www.solarthermalconference.org for more information or to register.
The Midwest Renewable Energy Association (MREA) is a non-profit 501(c)(3) educational organization. Founded in 1990, the MREA promotes renewable energy, energy efficiency, and sustainable living through education and demonstration. To learn more, call 715-592-6595 or visit www.midwestrenew.org.
###
Featured Product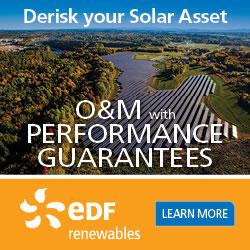 EDF Renewables offers the same innovative solutions that maximize the performance of our own 5.2 GW of installed projects. Because we're not an equipment manufacturer, our recommendations are transparent and data-driven. We cover the entire project lifecycle: from pre-commissioning support, through warranty and post warranty operation, to late stage and decommissioning.