Schneider Electric will exhibit a PV Box in Booth N03 at Solar Canada 2011, December 5-6 at the Metro Toronto Convention Centre.
Solar Canada 2011 attendees will get an inside look at Schneider Electric's PV Box, showcased at Booth N03 Schneider Electric, the global specialist in energy management, will exhibit utility scale and large commercial installations at the Canadian Solar Industries Association's annual conference and exhibition, taking place at the Metro Toronto Convention Centre from December 5-6.

"Through our facility in Mississauga, Schneider Electric provides FIT-compliant inverters for the Ontario market," said Rudy Wodrich, Commercial Vice President Americas, Schneider Electric Renewable Energies Business. "Since 2008, we have supplied over 225 MW of inverters and PV Boxes into the Ontario utility power plant and large commercial rooftop market, giving us a cumulative share of more than 45%."
The Schneider Electric PV Box is a customizable pre-wired equipment package specifically designed to meet the growing demand of large-scale grid-tied solar farms and large commercial installations in any region of the world, even in the harshest environments. The PV Box is a complete solution, including power conversion, electrical distribution, control, monitoring, and communication, all from one vendor. Visitors to the Schneider Electric booth will have the chance to walk through the PV Box to get a up-close look at the inverters and equipment inside.
Prior to the conference and exhibition, Schneider Electric will offer a training session on Small Commercial and Three Phase Applications on Saturday, December 3. This workshop will focus on Schneider Electric Xantrex GT100, 250 and 500MV inverter operation, maintenance and troubleshooting. Register at www.solarcanadaconference.ca.
About Schneider Electric
As a global specialist in energy management with operations in more than 100 countries, Schneider Electric offers integrated solutions across multiple market segments, including leadership positions in energy and infrastructure, industrial processes, building automation, and data centres/networks, as well as a broad presence in residential applications. Focused on making energy safe, reliable, and efficient, the company's 110,000 plus employees achieved sales of 19.6 billion euros in 2010, through an active commitment to help individuals and organizations "Make the most of their energy."
www.schneider-electric.com
Schneider Electric and the Schneider Electric logo are trademarks or registered trademarks of the Schneider Electric group of companies.
Featured Product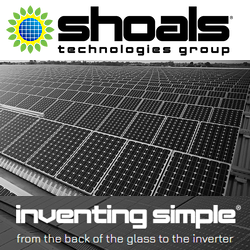 Inventing Simple® isn't just a slogan to us, it's a way of life. Using simple plug-and-play ideology, we revolutionized solar installations in 2003 with our Interconnect System™. Our harnessing system is now the gold standard EPC's use around the world. By using simple ideas, we are making solar energy a more affordable and clean power source for future generations.