Free educational webinar will focus on cutting-edge technology and market opportunity
Washington, DC – December 7, 2011 – Today, the Biomass Thermal Energy Council (BTEC) announced its newest webinar, "The Future of Biomass Thermal Energy – Advanced Technologies," scheduled for December 14th at 1 PM ET. The webinar will discuss the most cutting edge technologies for both fuel production and boiler manufacturing as well as what the future may hold for the biomass industry.

Although biomass heating systems are amongst the oldest form of energy systems, manufacturers continue to advance the technology for increased convenience and safety. From fully automated boiler systems to cutting edge fuel processing, leaders in the industry work unceasingly to improve their products. This webinar will provide an overview of system improvements designed to meet evolving customer's needs and local standards. Additionally, it will provide an opportunity to hear state and federal policy options and other avenues to expand the biomass industry.
The webinar's panelists include Tom Miles of the T.R. Miles Consultants, Inc. and who will discuss advanced commercial application with agricultural feedstocks, as well as David Frank of Sunwood Energy, who will present about the most intuitive commercial and residential technologies.
Registration for this event is free and required and available at www.biomassthermal.org/resource/webinars.asp#advtech
"This webinar will show participants what technology is available now and where we expect advanced biomass technology to go in the future," said Joseph Seymour, BTEC Executive Director.
This is the thirteenth webinar in a 14-part series, made possible with funding from the U.S. Forest Service's Wood Education and Resource Center (WERC). In June 2010, the USDA Forest Service awarded BTEC a grant to advance education and outreach on biomass thermal energy. The grant project has produced an array of educational tools, including fact sheets, web resources, webinars, audio interviews, and a slide presentation for use by all stakeholders. All tools are free and are publicly accessible on the BTEC website at www.biomassthermal.org/resource.
For more information on the webinar or the grant, contact:
Emanuel Wagner
Program Coordinator - Outreach, Education and External Affairs
Biomass Thermal Energy Council
emanuel.wagner@biomassthermal.org
About the Wood Education and Resource Center
The USDA Wood Education and Resource Center (WERC) is located in Princeton, WV, and is administered by the agency's Northeastern Area State and Private Forestry organization. The Center's mission is to work with the forest products industry toward sustainable forest products production for the eastern hardwood forest region. The Center provides state-of-the-art training, technology transfer, networking opportunities, applied information. The institution is an equal opportunity provider. Learn more at www.na.fs.fed.us/werc.
About the Biomass Thermal Energy Council
The Biomass Thermal Energy Council (BTEC) is an association of biomass fuel producers, appliance manufacturers and distributors, supply chain companies and non-profit organizations that view biomass thermal energy as a renewable, responsible, clean and energy-efficient pathway to meeting America's energy needs. BTEC engages in research, education, and public advocacy for the fast growing biomass thermal energy industry. Learn more at www.biomassthermal.org.
Featured Product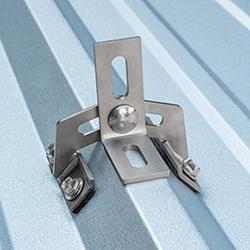 QuickBOLT Low Profile QuickBOLT with Microflashing™ is the industry's affordable, UL Certified Asphalt Shingle mounting system. The Microflashing™ is compressed by the collar on the bolt to create a water-tight seal. With an installation time of less than one minute, the Low Profile QuickBOLT allows installers to complete more jobs.