Santa Clara based commercial solar PV integrator, Vista Solar, recently installed a 438 kW rooftop installation for Annabelle Candy in Hayward, CA.
Annabelle Candy of Hayward California announced the installation of a new PV Solar system at their Hayward facility. Annabelle's new solar installation will offset over 90% of the factory's current electricity expense. In the first year alone, Annabelle will save over $136,000, a savings that is equivalent to more than 180,000 candy bars. Over the 25-year warranted life of the panels, the system will save Annabelle Candy approximately $6.5 million.

The system is made of 1,424 SunPower PowerGuard roof-tiles, which will insulate Annabelle's roof from harsh weather, UV exposure and most importantly for a candy bar manufacturer -- changes in temperature. The system uses a single SatCon inverter and is estimated to produce 646,855 kWh in its first year of operation – enough energy to power 92 homes. The system will drastically reduce Annabelle's carbon footprint by eliminating the burning of 52,462 gallons of fuel a year.
Since its incorporation in 1950, Annabelle Candy has been a family owned and operated company. President and CEO, Susan Karl, says "We at Annabelle's are proud to be one of the first manufacturing plants in the area to bring solar energy to our facilities. With the financial challenges we currently face in this economic environment, we feel fortunate to have found a way to offset our operating costs and help conserve our precious resources, while continuing to provide jobs for our wonderful employees."
Featured Product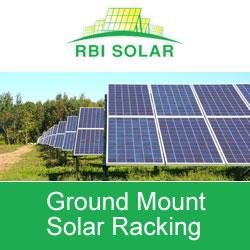 RBI ground mount solar systems are designed and engineered for each customer's site specific conditions to minimize the field installation labor and require no field welding, drilling, or other on-site fabrication. Our meticulous project planning and precise execution combine to provide you with solar racking solutions that are tailored to the unique conditions of your location. RBI provides a wide range of PV mounting systems in various sizes to offer freedom and flexibility to support every type of PV module. RBI Solar ground mount system is a perfect utility scale solar racking solution with two models classified by Intertek to UL subject 2703. ETL Classified systems include proven models GM-I and GM-T which have been used on many large commercial and utility scale solar racking projects across the country.