A total of 22,000 new solar panels in Cleveland County, N.C., today are pointed at the sun, generating enough power for 616 average-sized homes in the region.
CHARLOTTE, N.C., Jan. 12, 2012-- A total of 22,000 new solar panels in Cleveland County, N.C., today are pointed at the sun, generating enough power for 616 average-sized homes in the region.

The facility, named Kings Mountain Solar, was developed by Chapel Hill-based Strata Solar. It joins a growing list of projects in North Carolina, and is one of the largest in the state. Under a 20-year contract, Duke Energy Carolinas will purchase all of the energy and renewable energy credits generated from the site.
"North Carolina is a leader in solar energy, and Kings Mountain Solar demonstrates our company's commitment to using solar energy to meet general renewable energy compliance requirements," said Brett Carter, president, Duke Energy North Carolina. "We remain focused on delivering cost-effective renewable energy to our customers."
Recognized as a competitive energy resource, solar power is attracting new investors and enabling larger projects at lower costs to customers.
"Kings Mountain Solar and Strata's ongoing development of utility-scale solar farms is an excellent example of how sustainability has transformed into a mainstream economic force, resulting in an explosion of longterm job creation across the state," said Markus Wilhelm, chief executive officer of Strata Solar. "We are thrilled to partner with Duke Energy Carolinas in fostering environmental responsibility and bringing clean economic development to North Carolina."
About Duke Energy Carolinas
Duke Energy Carolinas owns nuclear, coal-fired, natural gas and hydroelectric generation. That diverse fuel mix provides approximately 19,000 megawatts of owned electric capacity to approximately 2.4 million customers in a 24,000-square-mile service area of North Carolina and South Carolina. Headquartered in Charlotte, N.C., Duke Energy is a Fortune 500 company traded on the New York Stock Exchange under the symbol DUK. More information about the company is available on the Internet at: www.duke-energy.com.
About Strata Solar LLC
Strata Solar LLC is an international provider of complete solar energy systems and installations. In addition to turnkey services for the complete design, construction and installation of residential and commercial photovoltaic and solar thermal systems, Strata Solar provides a full array of engineering, procurement and construction (EPC) services, separately, as needed, to solar developers and companies interested in clean, renewable energy. Headquartered in its LEED Silver certified office and showroom in Chapel Hill and expansive warehouse nearby, Strata Solar also has operations in Ontario, Canada and San Francisco, California. Visit www.stratasolar.com for more information.
Featured Product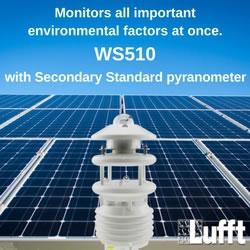 Professional weather sensors form the heart of large solar plants supporting their operation and performance. Lufft was the first manufacturer to combine several sensors in one housing, bringing the largest multiparameter weather sensor family with 19 members into being. Many of them are well-suited for solar site assessment and continuous monitoring. The most commonly used one is the WS600 delivering data on temperature, air pressure, wind, relative humidity and precipitation. Through its open protocol, it can easily be attached to radiation sensors e.g. from Kipp&Zonen. Other models have an integrated Silicon, Second Class or Secondary Standard radiation sensor.