New plant, located in Chattanooga, Tenn., is the first and only automotive plant in the world to receive LEED Platinum certification
St. Louis-based Vertegy, an award-winning sustainability consulting firm, is again creating history, this time by helping Volkswagen deliver the first and only automotive manufacturing plant in the world to receive the highest level of Leadership in Energy and Environmental Design (LEED) certification from the U.S. Green Building Council (USGBC). Vertegy recently teamed up with Volkswagen to help the automaker achieve Platinum LEED certification for two new facilities: the Volkswagen Assembly Plant and the Volkswagen Academy, both located on the same site in Chattanooga, Tenn.

When planning for its new facility, Volkswagen made a commitment to growth, energy efficiency and sustainable site development in North America despite the current economic downturn. The company enlisted the help of Vertegy to guide the sustainable design and construction of the facility, where it manufactures the all new Volkswagen Passat that reintroduces diesel to the American automobile market and achieves a fuel efficiency of 43 miles per gallon on the highway. Located 12 miles from downtown Chattanooga in the Enterprise South Industrial Park, the Volkswagen Assembly Plant consists of a body shop, administrative office area, paint shop, technology center and general assembly building. Also within the larger complex are multiple support buildings, including a fire house, a central utilities building and a training center known as Volkswagen Academy.
"The magnitude of this project combined with the experience and talent possessed by the entire project team encouraged innovations in every aspect, and these innovations were welcomed by Volkswagen, resulting in the achievement of the highest honor of LEED certification," said Thomas Taylor, general manager of Vertegy and industry expert on sustainable building. "Volkswagen's commitment to sustainability and environmentally-responsible manufacturing is remarkable and the company is truly deserving of this recognition."
Environmental highlights of the Volkswagen Assembly Plant include the following:
• The construction team salvaged or recycled nearly 78 percent (4,602 tons) of construction and demolition waste.
• 48 percent of total building materials were manufactured using recycled materials.
• Through low-flow water closets and urinals, the plant achieves a 58 percent reduction in potable water used for sewage conveyance. Additionally, the plant harvests rainwater from its roof that is collected for use in the sanitary waste system. Together, these strategies save 1,736,113 gallons of potable water each year. Low-flow showers, lavatory and kitchen faucets further decrease potable water usage, resulting in total savings of more than 3 million gallons of potable water each year.
• A white, reflective roofing material was installed on 100 percent of the roof area of the building, which reflects heat, lowering cooling costs and saving energy.
• All exterior lights at the facility provide only the minimum lighting required for safety to ensure that light does not spill into the night sky, adversely affecting the surrounding nocturnal environments through excessive glare.
• Measures to promote environmentally friendly commutes include the provision of bike racks for visitors and employees, availability of showers and lockers for employee use and preferred parking for those driving low-emitting and fuel-efficient vehicles and for those who carpool to the site.
Green highlights from the Volkswagen Academy include the following:
• The construction team recycled or salvaged 65 percent of waste materials generated during construction.
• 92 percent of all regularly-occupied spaces in the Academy are day lit, minimizing the need for artificial lighting and decreasing overall energy usage.
• Building occupants have high levels of control over thermal comfort. 61 percent of occupants can adjust personal temperature to suit individual task needs and preferences.
• 44 percent of the total building materials for this project were considered regional and 49 percent were made from recycled materials.
The Volkswagen Assembly Plant earned 52 points out of 60 to earn its Platinum certification in October. The Volkswagen Academy was awarded 54 points of out 60, and received its Platinum certification in November.
Some of the firm's other, notable LEED-certified projects include Hubble Middle School in Warrenville, Ill., First Light Federal Credit Union and USO in El Paso, Texas, Erin's Pavilion in Springfield, Ill. and Benedictine Women of Madison/Holy Women Monastery in Middleton, Wisc., which Vertegy helped to earn the highest LEED for New Construction Version 2.2 rating ever when it was certified in 2010. Other Vertegy LEED-certified projects in St. Louis include the Alberici Headquarters, the Anheuser Busch Technology Center, the Crossroads College Preparatory School, Page Business Center, St. Louis Community College's West County Campus and the William A. Kerr Foundation Offices.
For more information about the project or Vertegy's services, call 314.733.2666 or visit www.vertegyconsultants.com.
Founded in February 2005, Vertegy provides clients with design, procurement and construction consulting services for green and sustainable facilities. One of the key ways Vertegy serves clients is by helping them gain certification for their projects from various nationally and internationally recognized certification bodies, such as the U.S. Green Building Council (USGBC), which provides LEED (Leadership in Energy & Environmental Design) certification. Vertegy — which is derived from combining the Latin root for green and strategy — is based in St. Louis at the LEED Platinum Alberici Corporate Headquarters.
Featured Product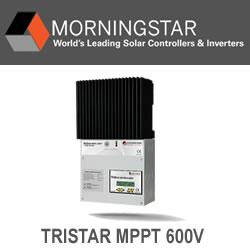 Morningstar's TriStar MPPT 600V charge controller leverages Morningstar's innovative TrakStarâ"¢ MPPT technology and our 20+ years of power electronics engineering excellence, to enable the widest input operating voltage range available from a solar array, wind turbine or hydro input. This controller's standard and DB versions are for off-grid applications, and the TR versions were developed to enable retrofitting grid-tied systems with battery backup.