Auriga USA analyst warns that solar-industry development cannot take place amid Chinese government sponsorship of 'predatory capitalism'
Washington, D.C., Jan. 23, 2012 – The Coalition for American Solar Manufacturing (CASM), supported by more than 150 U.S. employers of more than 11,000 workers, today applauded an analysis by Hari Chandra Polavarapu, managing director of solar and clean-technology research for brokerage firm Auriga USA, that underscores the importance of holding China accountable to international trade law. Polavarapu's target is China's alleged campaign of underwriting development of massive solar manufacturing capacity – without cultivating a significant domestic market – then wielding exports of artificially low-priced product as a "battering ram" to knock down the U.S. solar manufacturing industry.

A solar-focused analyst since mid-2004 with Deutsche Bank and now Auriga, Polavarapu contends in a series of research and analysis notes that China's alleged actions against foreign domestic industries not only distort markets but also sap the power of competition to drive efficiency and innovation. Polavarapu characterizes China as a "state sponsor of predatory capitalism and asymmetric warfare" that "does not help in weeding out inefficient players but poisons the profit pool for everyone."
"The lower prices of solar cells and modules from China so far have served as a battering ram in destroying overseas solar PV manufacturing competition," Polavarapu wrote in a Dec. 22 analysis. "If these unfair/irrational practices that led to lower prices continue unhindered, how long will it be before the downstream solar PV value chain is also fully emasculated?"
"The point is a trade/industry policy cannot be sustained with free market capitalism at one end of the table while retaining totalitarian control to engage in economic warfare from the other side," he wrote in a Jan. 11 analysis. "Individual industries and companies can compete against each other but cannot compete against a sovereign which has currency, capital, taxation and policy levers at its disposal."
CASM – founded by seven domestic crystalline silicon solar technology producers led by SolarWorld, the largest U.S. producer for more than 35 years – filed anti-dumping and anti-subsidy trade petitions in October 2011 against Chinese solar manufacturers to halt what the petitions characterize as pervasive, systemic use of state support to injure the U.S. industry. At least 12 domestic producers have undertaken layoffs, gone bankrupt or closed plants in all regions of the country over the past two years.
CASM seeks to restore legal international competition as a step toward rekindling growth of U.S. renewable-energy manufacturing and jobs. Yet, Polavarapu writes, cries of protectionism have risen from Chinese importers and the "parochial interests of the downstream" supposedly in defense of affordable solar technology. In fact, industry price statistics show that while wholesale prices have collapsed, end-user prices have fallen far less, all of which disrupts foreign manufacturers and enriches Chinese importers, but provides little benefit to end users.
"A valid defense from the U.S. on an issue that has a vital bearing at many levels of its society is not a protectionist trade war, but a message that free trade does not mean trade that is free of rules to prompt China to rethink its approach and look for a way that is a win-win for everyone," the Jan. 11 analysis said. "Today, it is solar panels; tomorrow, it will be about downstream installations, and beyond that it can be anything else."
In his Dec. 5 analysis, Polavarapu rejected any notion that "China's success in nurturing its solar industry comes from 'the wisdom and intelligence of Chinese entrepreneurs.' These comments, just like China's trade barrier investigation into policy support and subsidies for the U.S. renewable energy sector (announced) on Nov. 25, are laughable on their face, for they are nothing but fiction," he wrote.
Moreover, if U.S. federal government investigations into CASM's allegations result in tariffs to offset the effects of illegal dumping and subsidies, Polavarapu writes, the market will efficiently adjust as it has done annually to various changes in national demand-side solar incentives worldwide.
On Dec. 2, the U.S. International Trade Commission unanimously issued a preliminary ruling that Chinese trade practices are harming the U.S. domestic solar industry. The next step will be Commerce's preliminary determination on whether to impose import duties to offset the effects of allegedly illegal Chinese subsidies. Commerce also will rule on whether Chinese importers have mounted an evasive surge in Chinese imports; if so, importers of record would have to post bonds or cash deposits on tariffs on imports back 90 days. On March 27, the agency is scheduled to determine whether tariffs are warranted to offset the effects of alleged Chinese import pricing at artificially low prices.
Featured Product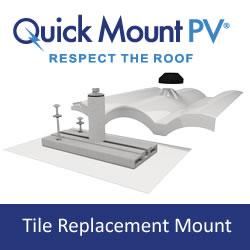 The Tile Replacement Mount provides a fast and easy way to install solar on tile roofs while protecting against water intrusion. Simply remove the tile and replace it with the Tile Replacement Mount. Works with all standard curved and flat tile roofs, and all standard rail-based racking systems. Flashed at both the deck and top levels, the mount is fully engineered to meet code requirements and industry best practices. The Tile Replacement Mount features Quick Mount PV's patented Elevated Water Seal technology for optimal waterproofing. Get a free sample and see for yourself!