Interest in solar energy in Georgia is at an all-time high thanks to increasing power costs. One local solar installer looks to educate the Forsyth County community about the benefits of adopting solar technology including available state tax incentives and local utility rebates for going solar.
Solar Energy USA, Georgia's largest residential solar installer, is the newest member of the Cumming – Forsyth County Chamber of Commerce. With the most number of solar panels installed on homes in Georgia, Solar Energy USA looks to educate the local Forsyth County community about the many benefits of incorporating solar power and energy efficiency into a home or business. Solar Energy USA is a national solar integrator headquartered in Alpharetta, GA, just north of Atlanta, and powers their office using 100% solar energy.

On a commercial level, lighting can represent a significant portion of a power bill, as much as 50% of total power consumption. One of the easiest and most inexpensive ways to reduce energy in a commercial setting is to upgrade lighting to be more energy efficient utilizing the T5 self-contained ballast and T5 retrofit adapters. A T5 lighting retrofit does not require any special tools, as adapters easily install into existing light fixtures including both T12 and T8 style light fixtures. Installing solar panels on a business, separately or in conjunction with energy efficient T5 lighting, can help a business save thousands of dollars a year. These savings go directly to the bottom line, decreasing fixed costs and creating a level of immunity to rising power costs. Available tax credits for businesses that install solar panels or make efficiency improvements decrease project costs and shorten payback periods. According to Brian Lawrence, head of the Solar Energy USA Commercial Lighting Division, "T5 lighting projects normally pay for themselves in 8 to 16 months in most cases," while commercial solar energy projects can pay for themselves in 3 years or less.
On a residential level, there is much interest in incorporating solar energy into powering a home to decrease or eliminate a power bill. Georgia residents who install solar panels can take advantage of a state tax credit covering 35% of the cost of going solar, in addition to a federal tax credit covering another 30% and rebates from local utility providers. Most Georgia utilities will buy back unused solar energy sent back into the power grid from a residential solar array. To help homeowners achieve their energy savings goals, Solar Energy USA offers affordable solar solutions and energy efficient home improvement packages designed to completely eliminate a power bill. "We've had multiple customers tell us that after installing solar they've seen dramatic energy savings upwards of 75%" says Howard Orchow, a solar salesman who works at the Alpharetta solar office. "People are frustrated when they open their ever-increasing power bills each month, and searching for ways to save money and become energy independent," Orchow adds.
About Solar Energy USA
Solar Energy USA is a renewable energy company that specializes in solar powered energy solutions including photovoltaic solar panel systems, solar thermal systems, solar attic ventilation, and energy efficient T5 lighting. Solar Energy USA is committed to affordable solar solutions for both businesses and residential homeowners and is backed by a network of engineers and installers across the US, which gives them collective data and information of new developments in the solar industry.
About Cumming-Forsyth Chamber of Commerce
The Cumming-Forsyth Chamber provides one voice for all local businesses to influence decision makers, recommend legislation, and protect the resources that make Cumming and Forsyth County a wonderful place to live and work. The Cumming-Forsyth Chamber of Commerce is dedicated to building a strong, sustainable economy for the long term future of Forsyth County by assisting businesses and recruiting new businesses that will make long term investments in our future.
Featured Product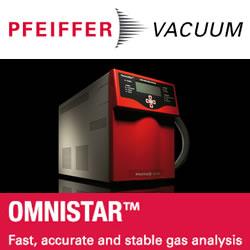 The Pfeiffer Vacuum OmniStar benchtop analysis system offers you a compact footprint, powerful software and Ethernet connectivity. It's the optimum solution for many real-time gas analysis applications. With the OmniStar, Pfeiffer Vacuum offers you a complete solution for gas analysis, in chemical processes, semiconductor industry, metallurgy, fermentation, catalysis, laser technology and environmental analysis. The turnkey OmniStar gas analysis system consists of heated, temperature-regulated gas inlet system, Quadrupole mass spectrometer, a dry diaphragm vacuum pump and HiPace turbopump. Unlike competing methods such as FTIR, OmniStar is suitable for qualitative and quantitative analysis of most gases.