Pilot of massive battery could extend equipment life, add solar energy to grid after dark
FLAGSTAFF, Ariz.--Arizona Public Service Company began testing a new 1.5 megawatt-hour energy storage system that is the size of a shipping container and can generate the equivalent power output of 1,200 hybrid cars or 300,000 cell phone batteries.

The goal of the company's two-year pilot in Flagstaff, Ariz., will be to determine the benefits for storing electricity and putting it onto the grid at times when APS customers need it most.
"We plan to study a number of things, including how we can decrease equipment stress on high demand days and how we can provide solar energy to our customers after sundown," says APS Director of Energy Innovation Barbara Lockwood. "This pilot has great potential to change some of the ways we deliver electricity in the future."
The energy storage pilot will be two-fold. In 2012, the energy storage system, which was developed by Electrovaya Inc., a lithium-ion battery manufacturing company, will reside in an electrical distribution substation. At a later date, the system will be trucked a few miles up the road to support a neighborhood-scale solar power plant.
In the substation, the system will store energy when it is inexpensive and the electricity flowing through the substation equipment is at lower capacity. Then, APS will have the ability to dispatch the energy at times of higher demand when electricity is both more expensive to purchase or produce and equipment is at maximum capacity.
"The steadier flow of electricity on peak days could keep our equipment healthy for longer periods, so we can improve reliability and keep maintenance costs down," says APS Energy Storage Project Manager Joe Wilhelm. "In the future, if a piece of equipment fails and causes an outage, we could also dispatch energy from storage units temporarily until repairs were made."
At the Doney Park Renewable Energy site, a 500-kilowatt solar power plant, the energy storage system will help reduce the intermittency of solar power generation and help to get more renewable energy onto the grid. For example, when a cloud passes over and system output decreases slightly, APS can dispatch energy from the storage system to fill the gap and keep a smooth flow of generation to the grid. APS also plans to test dispatching the energy after dark.
"Energy storage can make renewable resources more reliable for our operations teams and for our customers. One of the busiest times on our system is between 5 and 9 p.m. That's when many customers get home from work, turn on the lights, the TV and the air conditioner. However, by that time, solar systems have largely stopped producing for the day," says Wilhelm. "With storage, we can gather solar energy during the day and dispatch it in the evening, when it provides the greatest benefit to our customers."
The 500-kW Doney Park Renewable Energy site is part of the APS Community Power Project. With Community Power, APS is studying the effects of a high concentration of solar energy in a single neighborhood as part of a $3.3 million U.S. Department of Energy grant awarded in 2010. In addition to the solar plant, 125 APS customers and a local elementary school are generating electricity from rooftop solar systems.
Flagstaff is home to a number of APS Energy Innovation pilots. In addition to Community Power, APS is engaged in a self-healing/self-isolating grid pilot and a distribution fault anticipation pilot. The latter two technologies help predict and manage system faults, resulting in reduced power outages and quicker repair times. Together, these and other APS Energy Innovation programs are ranked Top 5 nationally by Intelligent Utility magazine.
A video about the energy storage system can be found at the APS You Tube channel. Photos of the system are also available online.
APS, Arizona's largest and longest-serving electricity utility, serves more than 1.1 million customers in 11 of the state's 15 counties. With headquarters in Phoenix, APS is the principal subsidiary of Pinnacle West Capital Corp. (NYSE: PNW).
Featured Product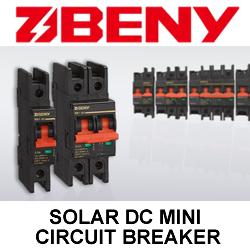 The BB1-63 modular miniature circuit-breakers can be used in solar DC circuits up to 1200 VDC (4-poles execution). Application in solar DC circuits, battery energy storage systems and UPS. Arc flash barrier design keeps solar equipment more safe and reliable. For DC circuit over-current protection.