Konarka's Next Generation Organic Photovoltaic Cells Make Efficiency Advances for Cost-Effective, Energy-Harvesting Structures, Autos and Devices
LOWELL, Mass.--Konarka Technologies, Inc., an innovator in development and commercialization of Konarka Power Plastic®, a lightweight, flexible organic solar film that converts light to electricity, a lightweight, flexible organic solar film that converts light to electricity, today announced that Newport Corporation (NASDAQ: NEWP) has certified Konarka's next generation organic solar cells as demonstrating 9% single-junction efficiency. These recent advances continue to be based upon Konarka's inverted cell architecture, the company's intellectual property protected under issued patents. Located in Irvine, California, the Newport Technology & Applications Center's Photovoltaic (TAC-PV) Lab is accredited by the American Association for Laboratory Accreditation (A2LA).

"With this recent certification, Konarka makes continual progress in the solar cell efficiency of Power Plastic suitable for our large scale roll-to-roll processing plant on inexpensive plastic films," commented Howard Berke, chairman, CEO and co-founder of Konarka. "For architects, design engineers and builders integrating solar technology into curtain walls, windows, transit structures, automobiles with energy-harvesting rooftops, consumer electronics and more, Konarka is dedicated to increasing the efficiency and lowering the cost of manufacturing our design-friendly solar films for more cost-effective, energy-harvesting applications. We are also quite enthused that this result was achieved with our newest proprietary blue-grey polymer system which is in highest demand by our customers in several market segments."
Thin, lightweight, transparent and flexible, Konarka's Power Plastic solar films are ideally suited for integration into various building materials, including glass, steel, plastics, composites and fabrics, offering creative architects and product designers superior, widespread latitude with several color and transparency options across a wide range of sizes enabled by Konarka's roll-to-roll continuous manufacturing process.
About Newport Corporation
Newport Corporation is a leading global supplier of advanced-technology products and systems to customers in the scientific research, aerospace and defense/security, microelectronics, life and health sciences and precision industrial manufacturing markets. Newport's innovative solutions leverage its expertise in photonics technologies, including lasers, photonics instrumentation, sub-micron positioning systems, vibration isolation, optical components and subsystems, precision automation and three-dimensional non-contact measurement equipment, to enhance the capabilities and productivity of its customers' manufacturing, engineering and research applications. Newport is part of the Standard & Poor's SmallCap 600 Index and the Russell 2000 Index.
About Konarka Technologies, Inc.
Konarka Technologies develops and manufactures solar plastic films that convert light to electricity – anywhere. As the leading developer of polymer-based, organic photovoltaic (OPV) technology that provides a source of renewable power in a variety of form factors, Konarka has a broad portfolio of patents, technology licenses and an accomplished technical, scientific and manufacturing team. Manufactured at low cost and low energy consumption, the company's Konarka Power Plastic® technology is lightweight, flexible, scalable and adaptable for use in a variety of commercial, industrial, government and consumer applications. Konarka Technologies is headquartered in Lowell, Mass., U.S.A. and has a full scale production manufacturing facility in New Bedford, Mass. U.S.A., with European headquarters in Nürnberg, Germany and a business development office in Japan. For additional information, visit http://www.konarka.com.
Featured Product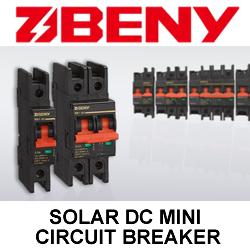 The BB1-63 modular miniature circuit-breakers can be used in solar DC circuits up to 1200 VDC (4-poles execution). Application in solar DC circuits, battery energy storage systems and UPS. Arc flash barrier design keeps solar equipment more safe and reliable. For DC circuit over-current protection.