PPA provider's latest collaboration with BJ's Wholesale Club marks entry into New York market
DEER PARK, N.Y. – March 07, 2012 – Tioga Energy, a leading provider of renewable energy services to commercial, government and non-profit organizations, today announced the completion of a solar electric system atop the new BJ's Wholesale Club location in Deer Park, N.Y. The project is the first of two Tioga Energy installations developed through an incentive from the New York State Energy Research and Development Authority (NYSERDA). Together, the projects will provide about 850 kilowatts (kW) of renewable energy and bring Tioga to nearly 1 megawatt (MW) of installed solar in the state of New York.

Commissioned in late 2011, the 249 kW Deer Park project was developed and financed by Tioga Energy, which also owns and operates the system. Through a 20-year SurePathTM Solar power purchase agreement (PPA), Tioga will sell the generated electricity back to BJ's Wholesale Club at low, predictable rates. Long Island-based EmPower Solar provided engineering and installation services.
This project was the first constructed and financed by Tioga Energy in New York, and also stands as the company's fifth collaboration with BJ's Wholesale Club. The organizations have now completed nearly 2,000 kW in projects on club locations along the East Coast.
"Tioga Energy has consistently demonstrated its value as a renewable energy partner," said Kevin Moran, manager of energy at BJ's Wholesale Club. "Since our first PPA with them in 2010, Tioga has helped us pursue our corporate commitment to preserve the environment through innovative and environmentally sound programs that reduce energy consumption, such as solar."
NYSERDA's funding for this competitive solicitation was provided through American Recovery and Reinvestment Act (ARRA) funds. Later this spring, Tioga will announce the second system it developed through NYSERDA.
"Solar is an important component in New York State's diverse renewable energy portfolio," said Francis J. Murray Jr., president and CEO of NYSERDA. "NYSERDA is pleased that BJ's Wholesale Club is continuing its investment in solar powered energy through Tioga Energy. With this type of investment in clean energy, the impact is not only beneficial for the business but for the surrounding community and the environment."
"The U.S. solar market can differ significantly from state to state, each with its own unique challenges. Tioga's ability to deftly penetrate emerging solar markets across the country is a key differentiator for our company," said Paul Detering, CEO of Tioga Energy. "Our latest project with BJ's Wholesale Club pushes us over the 100-system mark, solidifying our position as a leader in the distributed generation sector from New York to Hawaii."
About Tioga Energy:
Tioga Energy enables commercial, government and non-profit organizations to reduce energy costs while lowering carbon emissions. Through the SurePath™ Solar power purchase agreement (PPA), Tioga Energy owns and operates renewable energy systems that provide organizations a hedge against energy price volatility and accelerate their access to clean energy without any capital outlay. For more information, call 877-333-9787 or visit www.tiogaenergy.com. To access and download Tioga Energy's SurePath™ Solar PPA, please visit: www.tiogaenergy.com/annotated-ppa-index.php.
About BJ's Wholesale Club:
BJ's is dedicated to providing members with high-quality, brand-name food and merchandise at prices that are significantly lower than supermarkets, supercenters, department stores, drug stores and specialty retail stores. BJ's carries the most product variety of any wholesale club with more than 7,000 items, including supermarket-sized staples, USDA "Choice" meats, all-natural and certified organic products and stock-up items. BJ's is the only wholesale club to accept all manufacturers' coupons and for greater convenience, offers the most payment options including EBT.
Headquartered in Westborough, Massachusetts, BJ's Wholesale Club, Inc. is a leading operator of warehouse clubs in the eastern United States. The Company operates 195 clubs and 107 gas stations in 15 eastern states. Learn more and shop online at BJs.com or for exclusive content visit Facebook.com/bjswholesaleclub and Twitter.com/bjswholesale.
About NYSERDA:
A public benefit corporation, NYSERDA offers objective information and analysis, innovative programs, technical expertise, and funding to help New Yorkers increase energy efficiency, save money, use renewable energy, and reduce their reliance on fossil fuels. NYSERDA professionals work to protect our environment and create clean-energy jobs. NYSERDA has been developing partnerships to advance innovative energy solutions in New York since 1975.
Featured Product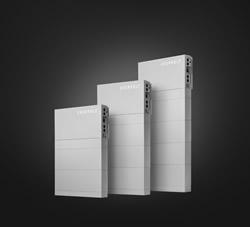 Extract maximum power production from every roof size and shape. HIT® AC Series combines the module efficiency of Panasonic solar panels with the intelligence of Enphase microinverters. A built-in IQ 7X microinverter with Individual MPPT (Module-level Power Point Tracker) tracking helps deliver an all-in-one module that offers design flexibility, reduced installation time, and a higher ROI. Field-replaceable microinverter with no DC wire management required yields lower cost of ownership.