Gilching/Germany, 8 March 2012. In February Donauer Solartechnik Vertriebs GmbH opened a branch in Bütgenbach in Belgium.
Activities in all the Benelux countries will be controlled in future by the new branch. Two years ago, Donauer Solartechnik opened its first sales office in Belgium. Two years later, the specialist distributor from Gilching is expanding by changing the office into a branch office. The subsidiary will act independently in the Benelux countries and the establishment of a storage facility is also planned. Branch manager is Thomas Lechat, he was previously the manager of the sales office.

"In setting up a local branch office, we aim to serve our customers more quickly and above all to offer our services in all four languages French, Flemish, German and English throughout", says Thomas Lechat. Due to its large range of solar components and solutions, Donauer Benelux is already well established on the Belgian market. "We are hoping to achieve an increase in turnover, especially with the introduction of the easy-to-handle assembly frame Futura Siplex to the Belgian market. The area of e-mobility also has the potential to attract new groups of customers", emphasizes Lechat.
Expectations for the Benelux Region
"Last year we achieved a market share of almost 8 % in Belgium. With our new branch office we are showing our customers that we continue to be there for them and that our activities in these countries will be long-term", explains Walter Manns, managing director of Donauer Solartechnik. He adds: "I continue to rate the development in Belgium and the other Benelux countries positively and expect further growth of our market share in all three countries."
Donauer Benelux PGmbH
Zur Domäne 39
B - 4750 Bütgenbach
Phone: +32 / 80 22 69 16
Fax: +32 / 80 21 64 09
E-Mail: info@donauer.be
Featured Product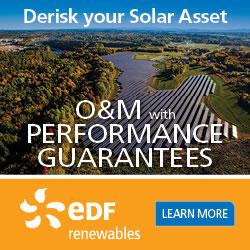 EDF Renewables offers the same innovative solutions that maximize the performance of our own 5.2 GW of installed projects. Because we're not an equipment manufacturer, our recommendations are transparent and data-driven. We cover the entire project lifecycle: from pre-commissioning support, through warranty and post warranty operation, to late stage and decommissioning.