New 600-watt modules nearly double the capacity of previous Parallel Solar components, further reducing the installation cost of solar power systems
SAN JOSE, Calif., March 13, 2012 – eIQ Energy, Inc. today introduced the latest and highest-capacity addition to its vBoost DC Parallel System – the new vBoost 600 DC-to-DC converter module, which reduces the installed cost and improves the efficiency of solar power arrays.

The new vBoost 600 modules boost the output of solar panels to a predictable, constant voltage while providing up to 600 watts of power capacity – enough to handle two crystalline silicon photovoltaic (PV) panels or multiple thin-film panels. The new modules use fewer components and provide more efficient power conversion than eIQ Energy's previous 250- and 350-watt modules.
"By nearly doubling the power capacity of our latest vBoost modules, eIQ Energy continues to lower the overall costs of solar power generation," said Jerry Cutini, chief executive officer for eIQ Energy. "With fewer vBoosts required per solar array, system installers and operators can save on both materials and labor on solar installations."
eIQ Energy's vBoost DC Parallel System – which includes vBoost converter modules, vComm communication modules and web-based Monitoring System software – enables solar panels to be wired in parallel rather than in series. Studies have shown that up-front costs are lower for a Parallel Solar installation, because cable and combiner box requirements are cut by more than an order of magnitude; this also slashes the amount of on-site interconnection labor. Parallel wiring also removes many design and installation constraints.
The vBoost converters also provide distributed maximum power point tracking (MPPT). This ensures that each panel contributes its full generating potential at all times, regardless of panel shading, soiling, and other design and operational issues, allowing the inverter to operate at optimal efficiency. It also simplifies array design, extends the life of system components and increases power harvest by 5 to 30 percent.
The vBoost DC Parallel System's parallel wiring architecture enables well over 100 thin-film solar panels to be connected on a single cable, 20 times more than traditional series wiring schemes permit.
eIQ Energy's vBoost DC converter modules were recently used to complete a new 1.2-megawatt solar system for Granite Construction Inc. (NYSE: GVA) in Coalinga, Calif. The system is believed to be the largest completed PV electric generating system to use distributed power electronics.
About eIQ Energy
eIQ Energy, Inc. uses unique power management technology to make solar energy more effective and affordable. The company's Parallel Solar technology, built around the vBoost DC Parallel System, reduces overall system costs and enables a true parallel architecture, benefiting system designers, installers and operators. eIQ Energy was founded in 2007 with the principal goal of improving the performance and the return on investment for clean energy sources such as photovoltaic systems. Headquartered in San Jose, Calif., eIQ Energy's executive team combines sophisticated knowledge of power supply design, semiconductors and energy management with broad entrepreneurial skills. For more information, please visit www.eiqenergy.com.
Featured Product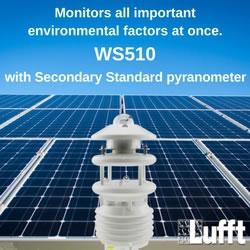 Professional weather sensors form the heart of large solar plants supporting their operation and performance. Lufft was the first manufacturer to combine several sensors in one housing, bringing the largest multiparameter weather sensor family with 19 members into being. Many of them are well-suited for solar site assessment and continuous monitoring. The most commonly used one is the WS600 delivering data on temperature, air pressure, wind, relative humidity and precipitation. Through its open protocol, it can easily be attached to radiation sensors e.g. from Kipp&Zonen. Other models have an integrated Silicon, Second Class or Secondary Standard radiation sensor.