Strong service record, promotional program and state/federal incentives make 1st Light Energy an attractive option for Bay State homeowners and businesses
BOSTON--1st Light Energy, www.1stlightenergy.com, a leading provider of solar energy solutions in New Jersey and California, announced today it was expanding its operations into Massachusetts, opening a regional office to address the growing demand for solar energy among residential and commercial property owners in the Bay State.

The regional office, to be located in the area of Waltham, Mass., will be overseen by Robert Palmer, New England Regional Manager. 1st Light plans to hire 20 people to staff the office and a warehouse within the next couple of months. Within the next 12 months, a second 20-person office will be added in the Springfield area, to service customers in western Massachusetts and upstate New York. 1st Light Energy already has a large customer in Massachusetts, Extra Space Storage, which also operates in a number of other states, including New Jersey and California.
Plans also call for an office in the Hartford, Conn. area this summer, and one in New Hampshire or Maine over the next 12 months.
"2012 is shaping up to be a perfect time to do solar business in Massachusetts and the New England region," said Barrett Peck, Vice President of Sales and Marketing for 1st Light Energy. Peck added that 1st Light only uses American-made products, including solar inverters from Solectria of Lawrence, Mass., and panel racks from PanelClaw of North Andover, Mass.
More residents and business owners are seeking clean energy alternatives, and the combination of state and federal incentives and lowered system costs means many can see a quick return on their investment, according to Peck. New lease financing programs that are fully funded by a Google endowment have no upfront costs and allow immediate savings on electric bills that increase significantly over the 20-25 year life of the system.
"Given a number of factors – high energy costs, the pollutant byproducts of traditional electric generation and the increasing affordability of the solar option – 1st Light Energy is experiencing high growth and high demand for our solar products and services," said Peck. "We expect that trend to continue as we start up operations in Massachusetts, where more and more Bay State residents are looking to save money on energy while reducing their carbon footprint."
As part of its Massachusetts launch, 1st Light is offering a strong incentive program:
*Customers who sign contracts with 1st Light Energy in the month of April 2012 will have their electricity bill covered by the company during the installation process, which takes about 60 to 90 days.
*Anyone who makes a referral to someone who becomes a 1st Light Energy customer gets $500 for each successful referral, without limit. Also, any new customer who does so will receive $1,000 for each successful referral.
1st Light Energy has distinguished itself it in the solar industry based on its strong track record of customer satisfaction, quality installation work and service delivery in the New Jersey and California markets, and with key commercial customers such as Extra Space Storage (15 installations completed in Massachusetts).
The Massachusetts office will become a full-service location in the next few months as 1st Light Energy hires people with electrical, roofing and solar panel experience, as well as administrative support. For more information on these positions, click here http://www.1stlightenergy.com/about.html
Massachusetts Gov. Deval Patrick has been a strong proponent of alternative energy, as evidenced by a number of policy and rebate initiatives, including a stated goal of increasing solar energy installations in the state by 2017 to a capacity of 250 megawatts. That's enough to power at least 37,500 homes. Among the incentives available in Massachusetts:
*Fifteen percent of the amount spent on solar equipment (including the cost of installation) can be credited, up to a maximum credit of $1,000. The system must be new, must comply with performance and safety standards, be installed at the taxpayer's primary residence and must be expected to remain in operation for at least five years.
*A state sales tax exemption on the purchase of solar equipment and a property tax exemption.
*A "Renewable Energy Trust" with an annual budget of $4 million per year to provide rebates on solar systems purchased and installed in the state, providing rebates of up to $4,250.
"Despite the many advantages of solar power, many in Massachusetts remain unaware that the cost of it here has gone down while the advantages have increased," Peck said. "As more people become more aware of how easy it is to bring solar power home, we look forward to the opportunity to provide them with clean, affordable energy and stellar service as we expand and grow our business in the New England region."
For more information on 1st Light Energy, visit www.1stlightenergy.com, follow us on twitter @1LE_Solar.
Featured Product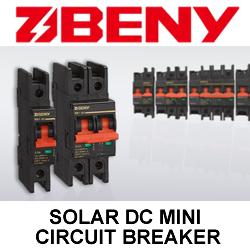 The BB1-63 modular miniature circuit-breakers can be used in solar DC circuits up to 1200 VDC (4-poles execution). Application in solar DC circuits, battery energy storage systems and UPS. Arc flash barrier design keeps solar equipment more safe and reliable. For DC circuit over-current protection.