USPTO Upholds Rejection of All Claims in Westinghouse Patent
Zep Solar, Inc. (Zep Solar), creator of the world's first module-integrated PV installation platform, today announced that the United States Patent and Trademark Office (USPTO) has sided with the company by issuing an Action Closing Prosecution, reaffirming the USPTO's prior rejections of every claim in Westinghouse Solar's patent #7,987,641 (the '641 patent). Westinghouse (NASDAQ:WEST) had alleged in a complaint to the International Trade Commission (ITC) that Zep Solar was infringing its '641 patent. However, the USPTO has now reaffirmed that all of Westinghouse's '641 patent claims are invalid.

"The recent action by the USPTO greatly strengthens Zep Solar's position in the face of Westinghouse's patent infringement allegations," said Jack West, founder and CTO of Zep Solar. "This validates our assertion that the inventions described by the '641 patent were not invented by Westinghouse."
A copy of the USPTO action, "Action Closing Prosecution", can be found on the USPTO Public PAIR website, http://portal.uspto.gov/external/portal/pair, by referencing application number 95001704.
About Zep Solar
Zep Solar, Inc. was founded in 2009 by PV industry veterans to advance the proliferation of solar energy through well designed PV mounting and grounding products that offer speed of installation and low cost to a wide range of applications. With its patented Zep Groove PV module frame technology, a catalog of its own mounting and grounding hardware, and third party Zep Compatible™ products, Zep Solar offers the world's first comprehensive platform for PV system installation. Zep Solar's platform drastically reduces the cost and complexity of designing, shipping, warehousing and installing PV systems. The company has twelve prominent licensee partners including Canadian Solar, Centrosolar, Enphase Energy, ET Solar, Trina Solar, UpSolar, Yingli Solar, Sharp Solar, Hanwha SolarOne and Eco-Kinetics. Please visit www.zepsolar.com for more information about our company and products. You can also follow us on Twitter @ZepSolar
Featured Product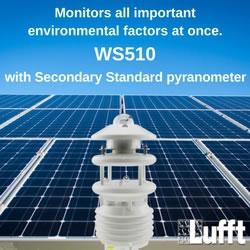 Professional weather sensors form the heart of large solar plants supporting their operation and performance. Lufft was the first manufacturer to combine several sensors in one housing, bringing the largest multiparameter weather sensor family with 19 members into being. Many of them are well-suited for solar site assessment and continuous monitoring. The most commonly used one is the WS600 delivering data on temperature, air pressure, wind, relative humidity and precipitation. Through its open protocol, it can easily be attached to radiation sensors e.g. from Kipp&Zonen. Other models have an integrated Silicon, Second Class or Secondary Standard radiation sensor.