Construction underway on 69 MW project expected to satisfy more than 5 percent of Oahu's electric demand
HONOLULU--First Wind, an independent U.S.-based wind energy company, today announced that it has obtained $236 million in financing for its 69 megawatt (MW) Kawailoa Wind project on Kamehameha Schools' Kawailoa Plantation lands on Oahu's North Shore.

A subsidiary of First Wind closed a $220 million non-recourse construction and term loan and $16 million in letters of credit for the Kawailoa project. Union Bank served as Administrative Agent and Joint Lead Arranger. Other Joint Lead Arrangers include Bayern LB, Rabobank and Siemens Financial Services. CIBC and CoBank also participated in the financing.
Early construction work began on the project in December of 2011 and has progressed steadily. The project is expected to be completed by the end of 2012. Major construction work, including delivery and erection of turbines, is expected to commence in the summer of 2012.
Once complete, Kawailoa Wind will be the largest wind energy facility in Hawaii. The project's thirty 2.3 MW Siemens wind turbines will have the capacity to generate enough clean, renewable wind energy to power the equivalent of approximately 14,500 homes on the island, or as much as five percent of Oahu's annual electrical demand.
"This financing is an important milestone for the construction of Kawailoa Wind," said Paul Gaynor, CEO of First Wind. "Hawaii has a genuine commitment to having more renewable energy on the islands, and these banks recognize that this project will be an important component toward reaching that goal. We appreciate the commitment of our financial partners, which will help First Wind deliver clean, renewable energy for the benefit of Oahu residents and businesses."
"The Kawailoa Project will play an important role in Hawaii's increasing energy independence and is yet another example of First Wind's ability to develop unique and innovative projects," said Lance Markowitz, Senior Vice President at Union Bank. "At Union Bank, we are pleased to once again support First Wind through the financing of this attractive wind energy project."
In December 2011, the Hawaii Public Utilities Commission approved a power purchase agreement between Kawailoa Wind and the Hawaiian Electric Company (HECO), which serves more than 400,000 Hawaii customers. Hawaii state law mandates 70 percent clean energy for electricity and surface transportation by 2030, with 40 percent coming from local renewable sources. Kawailoa Wind will significantly advance the state's progress toward these goals.
First Wind owns and operates two other wind energy projects in Hawaii, and is currently building another project on Maui. Kahuku Wind, also located on Oahu's North Shore, is a 30 MW wind project that has the capacity to generate enough energy to the power the equivalent of 7,700 Oahu homes. The Kahuku project went online in March of 2011. Beginning commercial operations in 2006, the 30 MW Kaheawa Wind project is above Ma'alaea. First Wind is currently building a second Maui project, Kaheawa Wind II that will consist of 14 wind turbines, capable of generating 21 MW of energy. Once Kaheawa Wind II is complete, the two Kaheawa projects will have a capacity of 51 MW with the potential to produce enough energy for the equivalent of nearly 19,000 Maui homes annually.
RMT, Inc. is the general contractor working on the Kawailoa project.
About First Wind
First Wind is an independent wind energy company exclusively focused on the development, financing, construction, ownership and operation of utility-scale wind projects in the United States. Based in Boston, First Wind has wind projects in the Northeast, the West and in Hawaii, with the capacity to generate up to 750 megawatts of power and projects under construction with the capacity to generate up to an additional 195 megawatts. For more information on First Wind, please visit www.firstwind.com or follow us on Twitter @FirstWind.
Featured Product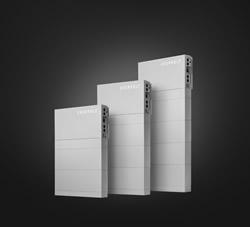 Renewable energy stored in an EVERVOLT home battery system is the perfect backup plan against an uncertain utility grid and weather events. Run key appliances longer and live life when the unexpected happens. EVERVOLT battery storage systems are covered by a complete 12-year warranty from Panasonic.