Beaumont Solar Says New England Businesses Will Continue to Benefit from Falling Solar Prices Following the China Import Tarriff Decision by the US Dept of Commerce
New Bedford, MA – Beaumont Solar Company is a shining example of green collar jobs and retooling for a new age. The commercial solar design and installation company has exploded 10-fold over a six-year stretch and the news announced by the US Department of Commerce regarding the imposition of low China tariffs last week will not stop Beaumont Solar Company's momentum.

According to Beaumont Solar Company President Phil Cavallo, SolarWorld of Camarillo, CA, brought on a lawsuit in October 2011, representing a coalition of seven U.S. manufacturers of solar cells and panels. The complaint petitioned the federal government to halt what SolarWorld described as an ever-rising tide of heavily subsidized solar cells and panels that China's state-supported solar industry is illegally dumping into the American market.
On March 20th, the U.S. Department of Commerce announced that new tariffs ranging from 2.9% to 4.73% were imposed on China's solar imports, a far cry from the 20-30% tariffs that were expected to level the playing field.
"It appears clear that the industry wants lower cost products," said Cavallo, "and markets will be served whether by the China suppliers or other off-shore suppliers."
Cavallo, who built his business with a vision of vertically integrated in-house capabilities and continued job growth in a depressed economy, says, "The waning demand in Europe, with Germany cutting their Feed In Tariff (FiT) and Italy slowing considerably, has created a supply and demand imbalance in the market. The U.S. market is not strong enough to absorb all of the demand, with our total consumption at 2GW in 2011, while global demand is in the order of 27GW."
According to Cavallo, this means that the U.S. will continue to benefit from falling PV (photovoltaic) prices while the oversupply of panels continues. "This isn't good for American solar product manufacturing, but it does bode well for those businesses who will continue to see a very positive ROI on converting their plants, offices, retail, healthcare, hospitality and other businesses to solar energy.
"In the start of 2008, there were 40 solar installers in Massachusetts," said Phil Cavallo, president of Beaumont Solar. "At the close of 2011, there were more than 500 to include those working in both residential and commercial markets. New England is one of the best solar markets in the U.S. due to higher than average electric rates, the value of Solar Renewable Energy Credits (SRECs) in the region and an increasing number of businesses are really taking notice of the financial savings of powering their operations with solar energy. Right now Massachusetts is one of the hottest solar markets in the entire country."
According to Cavallo, whose engineering background makes him particularly suited for this burgeoning industry, the meteoric growth in solar energy projects in New England has resulted in a small number of world-class companies that are dedicated to best practices and many additional companies that are flooding the market to grab a piece of the pie.
"We at Beaumont Solar have brought some of our old world values and practices to the new market. We believe in servicing our customers and building a business that is honest and sustainable," said Cavallo. "This is our way of instilling security with our customers. It's so important for businesses to do their homework when selecting a solar energy partner. There are many companies who are great at marketing and sales and have the best intentions, but they are really companies using sub-contractors for each piece of the project. We have been able to control the entire process from design to permitting to procurement to final commissioning and maintenance. In this way our customers not only enjoy a direct streamlined process, as well as access to the subject matter experts, but they also enjoy higher efficiency savings with a lower cost solution."
Cavallo's team has a track record of engineering systems that consistently offer a three- to five-year simple payback, many of which position clients to be Net Zero in electrical energy consumption.
In 2011, Beaumont Solar clients accounted for more than 20% of the state's commercial
1603 grant awards. Municipalities and companies including retail businesses, farms, healthcare facilities, manufacturing and distribution companies, ice rinks, marinas and nurseries all have called upon the expertise of Beaumont Solar to guide them through the research, engineering, financing, procurement and installation of commercial solar energy conversion.
The company is poised for 200% growth in 2012, adding installers and electricians as quickly as they can find employees who are committed to Beaumont's level of excellence and integrity.
"When you install a commercial solar project, it should last for at least 20 years," explained Cavallo. "You need to find a solid design and installation partner who will be there for two decades to stand behind the system and ensure your success. We certainly would like to see a more robust U.S. solar manufacturing base and hope that the markets will eventually correct the imbalance. In the meantime, it is important to remember the very positive impact of solar conversion and the economic success of the booming solar industry that exists in America today."
- end -
Beaumont Solar Company
As one of the largest commercial solar engineering, procurement and construction companies (EPCs) based in Massachusetts, Beaumont Solar specializes in landfills, ground arrays, large commercial rooftops and carports throughout New England. Beaumont is vertically integrated with in-house design, engineering and system implementation capabilities within one company. Beaumont Solar projects have resulted in a variety of businesses reaching Net Zero electrical energy, saving millions of dollars in energy and significantly reducing carbon emissions throughout the region.
Featured Product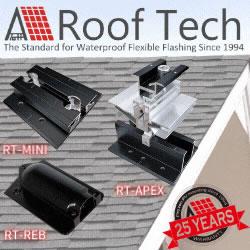 Now Roof Tech brings you the most innovative, watertight mounting systems ever developed for solar photovoltaic systems. Designed and manufactured exclusively for us by Japan's longtime leader in roofing technologies, Roof Tech products are 100% code-compliant and offer fast, simple installation and huge savings on shipping costs due to their compact, rail-less design. Learn more about our full line of versatile PV mounting solutions now available for residential installations. The next generation in rooftop solar mounting solutions."