"Trojan Tips" is designed to expand awareness of deep-cycle battery technology
Santa Fe Springs, Calif., April 11, 2012 - Trojan Battery Company, the

world's leading manufacturer of deep-cycle batteries, today launched "Trojan
Tips," its video tutorial series created to provide in-depth information
focusing on a variety of battery topics such as deep-cycle battery
technologies, maintenance practices, charging procedures and safety when
handling batteries. "Trojan Tips" is designed to expand awareness of
deep-cycle battery technology.
The first "Trojan Tips" video tutorial can be viewed at
http://www.trojanbattery.com/.
A new "Trojan Tips" video tutorial will premiere each month throughout 2012
on the Trojan Battery corporate Web site. The first "Trojan Tips" video,
which debuts today, reviews the various battery technologies available on
the market today, and what to consider when selecting a battery for a
particular application. The public, as well as Trojan distributors, dealers
and customers can log onto the Trojan Web site to view the video tutorials
and learn more about a variety of deep-cycle battery topics.
"One of the most important features of electrically powered equipment, and
probably one of the most ignored, is the battery," said Vicki Hall, Trojan's
director of quality and technical services, and host of the "Trojan Tips"
educational series. "The battery is the heart of any piece of electric
equipment that relies on batteries for power. When a battery fails in a
golf car, scissor lift or floor cleaning machine for example, it can make or
break a day on the course or impact profitability on the job site. Proper
understanding of this technology and maintenance practices are key to
getting the most out of a battery investment."
Trojan developed the "Trojan Tips" series to educate the public on a variety
of important battery-related subjects that can positively impact the
performance and longevity of deep-cycle batteries used to power electrical
equipment. Topics such as selecting the right battery, maintenance
techniques and appropriate charging and equalization guidelines are just a
few of the issues that will be addressed during the video tutorial series.
About Trojan Battery Company
Trojan Battery Company is the world's leading manufacturer of deep-cycle
batteries and a battery technology pioneer, having built the first golf car
battery in 1952. Trojan batteries provide power for a wide variety of golf,
industrial, renewable energy, recreational and auxiliary power applications.
Founded in 1925, the company is ISO 9001:2008 certified with operations in
California and Georgia, and maintains two of the largest and most extensive
research and development centers in North America dedicated to engineering
new and advanced battery technology. For more information on Trojan Battery
Company, visit www.trojanbattery.com.
Featured Product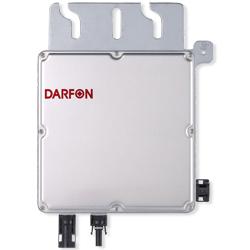 The Darfon G320 is the microinverter solution for today's high-power solar modules. The G320 handles 60- and 72-cell modules up to 350W DC and outputs up to 300W AC. The G320's 3-phase configuration accommodates the electrical distribution systems of most commercial buildings and to reduce, if not eliminate, the need for expensive transformers. The G320 comes in four voltage/phase configurations, so it can be installed in residential, commercial or utility applications.