President Bill Clinton to deliver keynote address at largest solar energy event in the Americas
Washington, DC, April 18, 2012 – The fast growing solar energy industry comes together September 10 – 13 when Solar Power International 2012 (SPI '12), convenes in Orlando Fla. Taking place at the Orange County Convention Center, SPI '12 is the premier business-to-business global solar conference and expo for professionals in solar energy and related fields. The convention center has a one-megawatt PV system that produces approximately 1,400 megawatt hours of electricity per year (enough to power 100 homes).

Presented by the Solar Energy Industries Association (SEIA) ® and the Solar Electric Power Association (SEPA), SPI '12 features over 1,200 international and U.S. exhibitors and is expected to bring more than 21,000 attendees from 125 countries.
President Bill Clinton will deliver a keynote address on Wednesday, September 12. In addition, SPI '12 offers a comprehensive conference program with approximately 40 sessions in six tracks: Finance, Markets, Policy, Technology, Grid and Transmission Planning and In the Field. Topics include: new financing projects, policy initiative and changes that affect solar, avenues of opportunity in new markets, and technologies beyond PV and CSP, such as micro-inverters, central inverters and power optimizers.
SPI's pre-conference workshop program is scheduled for Sunday and Monday, while a post-conference workshop will be held on Friday, offering in-depth classes.
Back by popular demand, Solar Idea Swaps, one hour sessions facilitated by industry experts, return to SPI on Tuesday and Wednesday. These are excellent opportunities to engage in lively group discussions.
"SPI is the one week each year when people throughout the entire global solar value chain come together under one roof in the U.S., making it the only can't miss solar trade show in the country," said Julia Hamm, president and CEO of SEPA. "SPI provides its attendees with the best opportunity available to connect with current customers and suppliers and to meet new ones. And, with the addition of President Clinton to the agenda, SPI will be even more exciting than ever."
"The $8 billion solar industry more than doubled in 2011, making it the fastest growing sector in the United States today," said Rhone Resch, president and CEO of SEIA. "SPI has grown exponentially as well and we are extremely proud that the show continues to be the epicenter for all that is new in solar. It is the comprehensive place to be to promote, launch, sell and demonstrate products and services for the global solar industry and we expect another outstanding event in Orlando."
For program updates and to register: http://www.solarpowerinternational.com/2012
About Solar Power International 2012 (SPI)
Presented by the Solar Energy Industries Association (SEIA) and the Solar Electric Power Association (SEPA), SPI'12 is designed to serve and advance the solar power industry and draws more than 24,000 professionals representing over 128 countries. SPI '12 takes place September 10 – 13 at the Orange County Convention Center, Orlando, Florida. Registration, sponsorship, exhibitor and program information can be found at: www.solarpowerinternational.com.
About SEIA®
Established in 1974, the Solar Energy Industries Association is the national trade association of the U.S. solar energy industry. Through advocacy and education, SEIA and its 1,100 member companies are building a strong solar industry to power America. As the voice of the industry, SEIA works to make solar a mainstream and significant energy source by expanding markets, removing market barriers, strengthening the industry and educating the public on the benefits of solar energy. www.seia.org
About SEPA
The Solar Electric Power Association (SEPA) is an educational non-profit dedicated to helping utilities integrate solar power into their energy portfolios for the benefit of the utility, its customers and the public good. With more than 1,000 utility and solar industry members, SEPA provides unbiased utility solar market intelligence, up-to-date information about technologies and business models, and peer-to-peer interaction. From hosting national events to one-on-one counseling, SEPA helps utilities make smart solar decisions. For more information, visit www.solarelectricpower.org.
Featured Product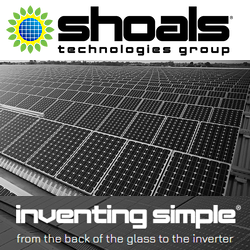 Inventing Simple® isn't just a slogan to us, it's a way of life. Using simple plug-and-play ideology, we revolutionized solar installations in 2003 with our Interconnect System™. Our harnessing system is now the gold standard EPC's use around the world. By using simple ideas, we are making solar energy a more affordable and clean power source for future generations.