Durable and highly-energy efficient MAGE POWERTEC PLUS modules part of revolutionary net-zero home design; Simple construction process allows application in critical disaster relief and for mass housing needs
Dublin (Georgia), April 20, 2012. – MAGE SOLAR, part of the globally operating MAGE GROUP, announced today its premium-quality PV-modules are part of the REOSE award-winning green building design that revolutionizes sustainable living as well as disaster relief housing.

Architects and Tulane professors Judith Kinnard and Tiffany Lin developed the "Sunshower SSIP House" as entry in the REOSE Sustainable Design Competition. Part of the requirement was to create a practical, price-conscious, real-life application for mass housing needs. In addition, the design needed to meet the standards for emergency disaster response and provide a fast, safe, and energy-sustainable shelter for displaced victims of natural disasters.
The prize-winning Sunshower SSIP House is a containerized kit that includes 22 MAGE POWERTEC PLUS 235 W US-modules to power all the energy needs of the 1,050-square-foot house. Energy-efficient building materials and design allow the highly-efficient 5.1 kW MAGE SOLAR PV-system to cover 100% of the electricity requirements even in extreme environments. Based on their durability and extreme reliability, MAGE POWERTEC PLUS modules were chosen as an ideal component in top-quality sustainable technology and construction.
"The concept of the Sunshower House is truly remarkable," said Joe Thomas, President and CEO of MAGE SOLAR USA. "It's not only completely well functional, but it also incorporates innovative and aesthetically pleasing design at the same time into ready-made construction. We'd like to congratulate not only the winning architects but also REOSE for their commitment in bringing sustainable mass and emergency housing onto an entirely new level."
A prototype of the Sunshower SSIP House is on display in New Orleans' Lakeview neighborhood to give government officials, green building and relief organizations an opportunity to experience the innovative design first-hand. In developing and realizing the project, REOSE also made a point of using only local and/or US-products on a preferred basis and working with vendors capable of delivering on a large-scale. The MAGE POWERTEC PLUS modules used in the home are fully ARRA-compliant and UL-listed.
"REOSE and the sponsors of the competition had very formal intentions in selecting the technology vendors to participate in this project," says Joseph Basilice, the President of Oceansafe. "MAGE is the leader and pace setter in the solar field; they have made a tremendous contribution in presenting the REOSE containerized, sustainable design on a global level. It is an honor to be associated with MAGE on the international playing field."
Photo Caption: MAGE POWERTEC PLUS modules are part of the innovative design for the SunShower SSIP concept that won the REOSE competition for sustainable mass housing and disaster response © Oceansafe 2012.
MAGE SOLAR – The Sun on Your Side
MAGE SOLAR USA, headquartered in Dublin, Georgia, specializes in complete solar systems and provides high-quality photovoltaic modules, intelligent mounting systems and high-performance brand inverters. As a subsidiary of the international MAGE GROUP, it uses the Group's 40 years of know-how to develop optimally coordinated system solutions. A competent partner network guarantees profitable solar energy systems for customers throughout the Americas and in fourteen more countries in Europe, Asia, Africa, and Australia.
www.magesolar.com
www.facebook.com/magesolar
www.twitter.com/mage_solar
OCEANSAFE – Hi-Performance Building System OCEANSAFE, LLC., is a manufacturer of structural insulated panels, committed to the sustainable rebuilding of New Orleans, with ongoing building projects throughout the Gulf and Caribbean Regions. Its reach is also worldwide, in providing immediate and permanent volume solutions to both housing and commercial infrastructure needs, with a commitment to quality, exacting material standards and functional sustainability in every building sold. The concept behind Oceansafe Building Systems is both simple and revolutionary. Our building envelopes consist of galvalume or magnesium oxide panels, combined with an expanded polystyrene or expanded polyurethane core, and assembled with a patented snap-together system that makes them highly resistant to the traditional destructive forces of nature, resulting in a finished building that is truly green and enduringly sustainable with unprecedented warranties, energy savings, and insurance reductions.
www.oceansafesteelsip.com
REOSE
OceanSafe, the premier manufacturer of durable and energy-efficient Steel Structural Insulated Panels; The Regen Group, sustainable design consultants; C&G Construction, a leading green residential and commercial contractor; and Woodward Design+Build, the largest Design + Build contractor in Louisiana and the Gulf Coast Region have entered into a strategic partnership to produce the winning model, SUNSHOWER SSIP House, REOSE's first sustainable prototype in New Orleans. The four associated companies are poised to manufacture, package, sell and market fully functional sustainable building kits in the US and abroad.
www.oceansafe-reose.com
Featured Product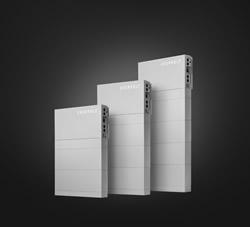 Renewable energy stored in an EVERVOLT home battery system is the perfect backup plan against an uncertain utility grid and weather events. Run key appliances longer and live life when the unexpected happens. EVERVOLT battery storage systems are covered by a complete 12-year warranty from Panasonic.