• Multi-National leader in the distribution of photovoltaic modules and inverters invests in Thailand, the fastest growing solar market in Southeast Asia.
PROINSO a company specialized in the distribution of photovoltaic modules, inverters, advanced tracking systems as well as racking solutions for ground mounted and rooftop installations, extends its global reach to Southeast Asia.

From it's new centre in Bangkok, Thailand, PROINSO plans to expand its international network of over 2020 Qualified Installers throughout Southeast Asia. The company's global network already accounts for 88% of sales across Europe and North America, while emerging markets which presently represent 5% of overall revenues.
Mr. David Anthony Carten has been appointed Director of Operations & Sales and will lead the effort based from Bangkok, Thailand. Carten brings 14 years experience in solar energy in international markets across North America, Latin America, Europe and Asia.
PROINSO works with several key partnerships in Thailand to expand into Cambodia, Laos, Myanmar, Vietnam, The Philippines, Indonesia and Malaysia by the end of 2013.
Thailand is of strategic interest for PROINSO, and has led the "solar boom" in Southeast Asia via strong solar PV incentives. "Just in the last year Thai electrical authorities have approved close to 700 MWs of Power Purchase Agreements for grid connected solar power plants," says Carten "and with solar power now cheaper than diesel in many areas, we will see the emergence of new important markets, all across Southeast Asia. The present cost of Solar has now reached the point where we can make a significant contribution to the electrification of those areas that rely entirely on fossil fuels."
"PROINSO's offering to the Souteast Asian market is unique, beyond offering quality bankable equipment, we are also able to provide project development support and through our partnerships, post sales service support," Carten adds. "The team working here is a highly experienced and professional group who will distinguish PROINSO as key partner for any solar power development, large or small."
Asian solar markets (China, Japan, India and Southeast Asia) in the next 2 years are expected to surpass 10,000 MW. PROINSO management added, "If we consider that forecasts for solar in Europe were to be 8,000 MW in 2013 while North America and Mexico will account for 6,000 MW it becomes very clear where PROINSO should be investing."
PROINSO is investing in emerging markets such as the Eastern Europe, Croatia, Morocco, Israel, the MIddle East, North Africa, Turkey, China, Australia, South and Central America and particularly India where just in the last year the company delivered over 35 MW of photovoltaic material, bringing emerging markets to 5% of revenue for the company.
Last year, PROINSO delivered a total of 303 MW of modules and inverters across 5 different continents bringing to the OPDE GROUP a total of 1,115 MWs distributed worldwide, a new record for solar energy.
The company has delegations in Spain, Germany, Greece, Italy, the USA, the UK, France, Canada, China and the Czech Republic.
CORPORATE INFORMATION: PROINSO www.proinso.net
PROINSO is a company specialized in the distribution of photovoltaic modules, inverters, mounting structure and advanced solar tracking systems for photovoltaic power plants. PROINSO has recently added SCHOTT Solar to its line of PV modules which include TRINA SOLAR, CANADIAN SOLAR, JINKO, YINGLI and LDK. PROINSO is also a major distributor of SMA and INGETEAM inverters as well as advanced solar tracking systems and racking from MECA SOLAR
PROINSO is the worlds leading distributor of TRINA SOLAR as well as the principle distributor of German inverter manufacturer SMA.
Featured Product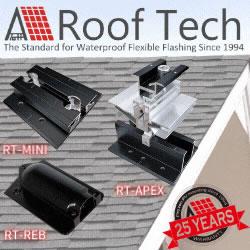 Now Roof Tech brings you the most innovative, watertight mounting systems ever developed for solar photovoltaic systems. Designed and manufactured exclusively for us by Japan's longtime leader in roofing technologies, Roof Tech products are 100% code-compliant and offer fast, simple installation and huge savings on shipping costs due to their compact, rail-less design. Learn more about our full line of versatile PV mounting solutions now available for residential installations. The next generation in rooftop solar mounting solutions."