Companies introduce Sequenced Inverter to rapidly growing Korean solar market
SUNNYVALE, Calif., and SINGAPORE, April 24, 2012 – ArrayPower, a Silicon Valley-based power electronics company, today announced it has entered into an agreement with Korean technology sales representative ShinHa Inc. Under the terms of the agreement, ShinHa will provide sales and technical support to meet the strong interest from Korea-based solar module manufacturers for ArrayPower's Sequenced Inverter.

ArrayPower's Sequenced Inverter, which converts the DC power produced by solar modules into grid-ready, three-phase AC power, is designed to meet the unique needs of the commercial-scale solar market. The Sequenced Inverter is sold to module producers, who then integrate the inverter during the module manufacturing process, facilitating cost reductions across the solar value chain and enhancing ease of installation by enabling a plug-and-play AC module. The Sequenced Inverter offers exceptional product reliability backed by a 25-year warranty.
"Manufacturers in Korea have shown enthusiasm for our technology because of the benefits it offers the commercial-scale solar market, and partnering with a reputable firm like ShinHa will allow us to expedite the acquisition of module partners in the region," said Nick Cravalho, vice president of business development and marketing at ArrayPower. "Korean manufacturers have a rich history of integrating electronics, and thus are well suited to quickly implement an AC module incorporating ArrayPower technology."
ShinHa brings 25 years of experience representing high technology companies in the liquid-crystal display (LCD), semiconductor and solar industries, and the company has established strong relationships with leading solar module manufacturers.
"Korea is quickly emerging as a manufacturing leader in the global solar marketplace," said InYoung Suh, director of business development for ShinHa. "Our partnership with ArrayPower enables ShinHa to offer its network a unique solar product that allows manufacturers to differentiate themselves from competitors as they strive to attain greater market share. We are excited about the potential of Sequenced Inverter technology, and we look forward to a mutually beneficial partnership."
About ArrayPower
Based in Sunnyvale, Calif., ArrayPower produces a sequenced inverter technology for application in solar energy systems to maximize performance, simplify installation and improve capital returns. The ArrayPower Sequenced Inverter is fully integrated with the solar module to create AC power that is grid-ready and commercial grade. The result is a safe, reliable and easy-to-install system that delivers more power at optimal costs. ArrayPower was founded in 2008 and is led by an executive team with extensive international experience in the solar, power electronics and semiconductor industries. For more information, visit www.arraypower.com.
About ShinHa
ShinHa was founded in 1986, and since then they have been mainly involved and specialized in importing and exporting of raw materials, parts, equipments, and other high tech products for semi-conductor, FPD, Solar and other state of the art industry. To their partners, ShinHa provides not only sales promotion but also business consulting. The members of ShinHa Inc have work experiences in a number of fields such as R&D, Manufacturing, and QA in top level companies like Samsung and LG. ShinHa also have built, maintained and valueed trusting relationships with many domestic companies as well as foreign companies. For more information, please visit www.shinha.co .kr.
Media Contact:
Kimberly Setliff
Antenna Group for ArrayPower
arraypower@antennagroup.com
(415) 977-1942
Featured Product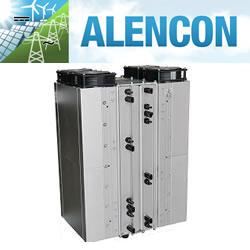 Alencon Systems is the premier manufacturer of high power, high voltage DC:DC optimizers for alternative energy applications including solar, battery energy storage, Microgrids, Fuel Cells and Electric Vehicle charging. Alencon's DC:DC converter offerings include the SPOT, BOSS and CUBE series DC:DC converters. The SPOT is a modular, uni-directional DC:DC solution ideal for solar applications. The BOSS is a modular, bi-directional unit for use with battery energy storage. The CUBE is a monolithic DC:DC converter which is available in both uni-directional and bi-directional modalities. Pictured above, is the Alencon SPOT.