The new light-weight self-ballasting mounting system brings PV installations to weight-limited roofs without penetrations ----- Manufactured in Ontario, Canada to meet OPA Local Content requirements for FIT eligibility. ----- Designed by an aeronautical engineer to leverage aerodynamic forces – wave shaped wind baffles offer stability and secure fixing; Stackable rail profile minimizes volume, lowering shipping and storage costs ----- Minimizes ballast requirements, eliminates penetrations and improves yield ----- Fast: Six components, five-step module installation, one tool ----- Increased module yield: venting windows allow wind and convection to cool back of modules
Toronto, Ontario, April 25, 2012 – Conergy Canada will train workshop participants at CanSIA Solar Ontario 2012, Monday, May 14th at 9:00 AM Eastern Time on its new aerodynamic mounting system for weight-limited industrial flat roofs, the Conergy SolarFamulus Air. By leveraging aerodynamic forces, the SolarFamulus Air reduces the ballast requirement for an entire array and the need for roof penetrations is typically eliminated. The SolarFamulus Air is the newest addition to Conergy's mounting system portfolio. Developed by an aircraft construction engineer the lightweight mounting system benefits from optimum aerodynamics and minimum roof load: the principle is similar to that of the spoiler on a racing car, as the baffles help to significantly reduce vertical, lifting forces caused by wind. This means that the SolarFamulus Air's aerodynamic shape together with its own weight and the use of minimal additional ballasting hold it in place on the roof – without any roof penetration. This makes it ideal for foil roofs or lightweight roofs.

Since many commercial flat roofs have weight limitations or do not have the structural strength to support conventional PV installations, until now this solar market segment has been significantly restricted. Conergy's design advance with the SolarFamulus Air allows these weight-limited commercial flat roofs to deploy solar energy and greatly expands the commercial rooftop solar market.
As a full system supplier, Conergy engineers used a system strategy approach to designing the SolarFamulus Air mounting system optimizing of the entire PV system. The SolarFamulus Air has venting windows that allow wind and convection to cool the back of the modules which promotes increased module performance. As with all of its mounting systems, Conergy designed the SolarFamulus Air with the goal of bringing value to the entire supply chain. Some key features of the product are its fast and easy installation with only 5 steps and 6 components and its stackable rail profile which lowers shipping and storage costs.
Potential: rooftops with limited load support capacity can now take advantage of solar PV
"Many years of experience have been put into developing this lightly ballasted system that requires no roof penetration", says Conergy Canada Product Manager Mitch Gorman. "Recent Ontario building code changes have severely reduced the additional load capacity of many Ontario rooftops. The SolarFamulus Air offers a state of the art mounting solution for mounting solar PV on these compromised roofs."
Six components, five step module installation, one tool
The Conergy SolarFamulus Air can be used not only on very thin roofs that cannot bear heavy loads but the installer also has the benefit of a high degree of flexibility and fast installation due to the small number of components. Only one tool is required to install the six individual components – and only five simple steps are required to attach the modules. This saves the installer material costs and time and the customer saves money.
Perfect ventilation for higher performance
In contrast to other flat roof systems available on the market the developers of the Conergy SolarFamulus Air have opted for an open construction. There are no closed "boxes" under the solar modules. In this way the wind can cool both the upper and under surfaces of the modules and the user is guaranteed maximum performance even at high temperatures.
Flat pitch for maximum use of the roof surface and high stability
The individual high quality components that have all been tested in a wind tunnel are built together to form a unified system: frame components are attached to the fixing rails and the wind baffles to create maximum stability. This helps to give a flat pitch of 15°. This not only reduces wind load and the need for additional ballasting but also reduces shadowing on the flat roof. This allows the installer to mount the rows of modules a short distance apart and so maximise roof surface utilisation.
Conergy Mounting System Portfolio
Conergy designed its mounting system portfolio by evaluating each step of the project, from shipping and inventory to installation and switching costs, in order to decrease the total install time and cost, while improving the profitability of the total PV system throughout the value chain. Conergy's mounting system portfolio is a synchronized system in order to make it easy for crews to quickly and easily learn the entire portfolio. All Conergy systems have high parts commonality and low tool and part count. The smart engineering includes extensively pre-assembled and pre-drilled parts, significantly decreased parts counts, flexible designs and standardization of components to speed installation time, lower total installation cost and reduce complexities in design, logistics and installation.
Visit the Conergy booth, number 414, at CanSIA Solar Ontario to view a sample of the SolarFamulus Air. Conergy will train customers about the technical aspects of the SolarFamulus Air at the event on, Monday, May 14th at 9:00AM Eastern Time. This new carefully thought-out lightweight system started shipping to customer job sites May 1, 2012.
About Conergy
Only Conergy delivers solar energy systems from a single source. As a system manufacturer, Conergy produces all components for a solar installation and offers all services under one roof.
With its modules, inverters and mounting systems, the solar expert creates Conergy System Technology, which is efficient and synchronized solar energy systems for private or commercial rooftops, as well as for multi-Megawatt Parks.
Conergy System Services deliver a "Worry-Free Package" for Conergy solar installations – from "A" for architectural planning to "Y" for yield insurance and "Z" for zero trouble. Conergy's experts not only install on-site turn-key solar projects, but they also manage the planning and financing, project implementation, system monitoring, operation and on-going maintenance of the project for maximum performance. With this comprehensive technology and service package, Conergy offers yield insurance for its installations.
Conergy System Sales brings Conergy premium products to nearly 40 countries. From "A" for Australia to "T" for Tunisia – the solar expert supports homeowners, installers, wholesalers and investors in their efforts to "go solar". With sales activities on five continents, Conergy has close relationships with all its customers. In 2010, more than half of Conergy's sales were generated outside of Germany.
Listed on the Frankfurt stock exchange, Conergy employs more than 1,700 people worldwide. Since Conergy's founding in 1998, it has produced and sold more than 1.5 GW of clean solar energy. Thus, in 2010 Conergy solar installations have generated almost as much power as a nuclear reactor.
Featured Product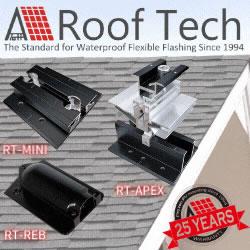 Now Roof Tech brings you the most innovative, watertight mounting systems ever developed for solar photovoltaic systems. Designed and manufactured exclusively for us by Japan's longtime leader in roofing technologies, Roof Tech products are 100% code-compliant and offer fast, simple installation and huge savings on shipping costs due to their compact, rail-less design. Learn more about our full line of versatile PV mounting solutions now available for residential installations. The next generation in rooftop solar mounting solutions."