Our aim is to create a storage solution that is easy to install and even easier to manage, giving our customers complete control over their energy storage system
GNB Industrial Power will be unveiling its innovative Modular Energy Management System (MEMS), the latest addition to its renewable energy applications range, at this year's All-Energy Show taking place in Aberdeen from the 23rd to 24th May 2012.

The market for the storage and integration of renewable energy is set to grow, with total worldwide revenue for energy storage expected to reach £21 billion by 2020. With this in mind, GNB has taken up the challenge of developing an innovative and cost-effective storage system based on its lead acid technology.
"We began developing a scalable Battery Energy Storage System for on and off-grid applications in 2009," explains Bruce Glaister, UK Sales Manager of GNB Industrial Power. "Since then our Systems Development team, based at the European Development Centre in Büdingen Germany, have been working hard to design and build a transportable prototype for use throughout Europe."
This new "turn-key" battery storage system is modular in design and transportable by truck or sea. It is based on a twenty foot sea container which acts as a compact and low cost battery room ("Energy Module"), and a ten foot container for the AC/DC converter and AC-grid connection ("Power Module"). Each module serves as a building block from which solutions can be assembled to a customer's specific requirements and installed with the minimum preparation.
"Our aim is to create a storage solution that is easy to install and even easier to manage, giving our customers complete control over their energy storage system. With this in mind we are working closely with D3I GmbH to create a system manager," continues Bruce. "This controller will allow the system to be operated autonomously or directly commanded via a Graphic User Interface or remotely via Web interface, allowing MEMS to be safely operated by customers either on-site or remotely via the web.
Going forward, GNB will be designing region-specific versions of the "Power Module" to ensure its compatibility with different grid voltages and frequencies in different countries. It has also begun the development of a control strategy for Photovoltaic (PV) applications which will allow a PV/MEMS combination system to have controlled electrical power output to the consumer or grid.
The MEMS can be adapted to many different applications including peak shaving for the utility and industrial industries; time shift for renewables; long term storage of renewables; and grid voltage stabilisation.
"Renewable energy is high on everyone's agenda and finding ways of harvesting and storing this sustainable energy is an ever increasing dilemma. However, we believe our Modular Energy Management System will allow many more companies to store and use renewable energy efficiently and, more importantly, cost-effectively," concludes Bruce.
For further information please visit us on Stand A73 at the All Energy Show. Alternatively, please visit www.gnb.com or call 0845 606 4111.
About GNB
GNB is a division of Exide Technologies. Exide Technologies, with operations in more than 80 countries, is one of the world's largest producers and recyclers of lead-acid batteries. The Company's four global business groups -- Transportation Americas, Transportation Europe and Rest of World, Industrial Energy Americas and Industrial Energy Europe and Rest of World -- provide a comprehensive range of stored electrical energy products and services for industrial and transportation applications.
Transportation markets include original-equipment and aftermarket automotive, heavy-duty truck, agricultural and marine applications, and new technologies for hybrid vehicles and automotive applications. Industrial markets include network power applications such as telecommunications systems, electric utilities, railroads, photovoltaic (solar-power related) and uninterruptible power supply (UPS), and motive-power applications including lift trucks, mining and other commercial vehicles.
Further information about Exide, including its financial results, are available from www.exide.com
Featured Product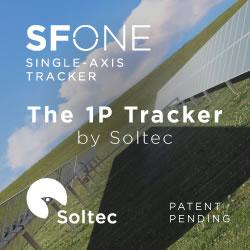 Soltec manufactures and supplies solar trackers designed and proven for extreme climate conditions, which is an ideal solution for any region's environment. Soltec's trackers are self-powered, requiring no additional PV module or grid-powered connection. Bifacial modules collect energy on both the front and rear sides, capturing reflected irradiance from the ground surface under and around the tracker and from other modules. Depending on site conditions, bifacial yield-gain can reach +30 percent.