Created by Colorado Cleantech Industry Association, intensive curriculum will help experienced C-level executives gain cleantech industry knowledge to develop their own cleantech ventures
DENVER – (May 10, 2012) – The Colorado Cleantech Industry Association announced today the creation of the Cleantech Fellows Institute (CFI), an intensive, 17-week executive training program to create near-term venture backable companies in cleantech. The fellows program is the first of its kind with a national focus.

Selected executives from across the nation will join the program. Targeted executives are those who have built successful companies in different sectors such as aerospace, biotechnology and enterprise technology. Executives with more than 20 years of experience, an advanced degree and experience leading a venture-backed start-up company are encouraged to apply. Each candidate must have a strong desire to transition into the cleantech industry through accelerated training, networking and technology exposure.
"Colorado is a hub for cleantech. There is an abundance of market-ready research and technology here to drive the success of this program," said Wayne Greenberg, director of the Cleantech Fellows Institute. "The executives selected will have access to virtually unlimited resources, build an invaluable national network of cleantech stakeholders and have the opportunity to launch venture backed companies in one of the industry's most innovative and supportive communities."
"We're thrilled to be a founder of the CFI and we look forward to working closely with experienced executives who can incorporate fresh ideas into leading successful cleantech start-ups," said Christine Shapard, executive director of Colorado Cleantech Industry Association. "This will be the first year of the program and I'm confident that it will prove to be one of the nation's most practical and motivating programs to advance the cleantech industry."
CFI was created by the Colorado Cleantech Industry Association (CCIA) and is supported by the Department of Energy's (DOE) National Renewable Energy Laboratory (NREL) and Advanced Energy Economy (AEE), a national business organization of which CCIA is a founding chapter. The CFI program builds on a regional program developed by the New England Clean Energy Council, another AEE member, and takes it national in scope.
This new program begins on Sept.17 with executives immersed in a highly interactive curriculum. Eight weeks of the 17-week program will be held on-site at various locations throughout Colorado such as the Colorado School of Mines, University of Colorado, Colorado State University and NREL. Seven weeks will be held "virtually" as webinars taught by nationally recognized experts in advanced energy. The executives will also participate in valuable networking events such as evening debates, speaking sessions, and exclusive dinners.
Approximately 20 percent of the program will be dedicated to intensive study of the energy industry and the regulatory, capital and structural challenges the industry faces. Topics will include overviews of wind, solar, renewable fuels and electricity markets, as well as the state of venture deal terms in cleantech and the outlook for exits. The participants will also study which industry niches are securing the most venture investment to best position their companies. Areas of in-depth study include advanced transportation technologies, energy storage, clean energy technologies and energy efficiency and building technologies.
The key to the program's success will be the executives' exposure to commercial-ready technologies from Colorado sources. Working with the universities and NREL as well as various business incubators such as CleanLaunch, the executives will develop a deep understanding of the technologies being researched at each institution. Each executive will select a technology that sparks their interest and plan a capstone project to present in January, in advance of graduation on Jan. 11, 2013. The capstone project includes a market and technology assessment as well as the building of an initial business plan for a potential new cleantech company.
"One of the challenges in the advanced energy sector is finding the right talent to turn cutting-edge technologies into successful companies," said Graham Richard, CEO of Advanced Energy Economy. "The Cleantech Fellows Institute is a perfect example of identifying special individuals outside of the clean energy industry – whether that be technology or other sectors – and helping them acquire the expertise they need to succeed in the dynamic, competitive advanced energy marketplace. We're very proud to support this program, which is the result of a true collaboration between two of our founding state partners."
Information on how to apply for the program is located at cleantechfellows.com.
About Cleantech Fellows Institute
The Cleantech Fellows Institute (CFI) is an exclusive program designed to facilitate the creation of venture-backed clean technology companies. The CFI will educate a highly select set of proven executives from across the country, and from a wide variety of industry sectors, that are interested in making the transition to cleantech. For more information, visit http://www.cleantechfellows.com
About Colorado Cleantech Industry Association
The Colorado Cleantech Industry Association (CCIA) represents the interests of the state's cleantech industry. Its mission is to further establish Colorado as a world leader in clean technology by providing representation and advocacy, a unified voice, relevant programming and capacity development. For more information, visit http://www.coloradocleantech.com.
Featured Product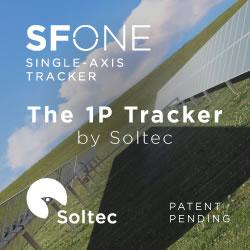 Soltec manufactures and supplies solar trackers designed and proven for extreme climate conditions, which is an ideal solution for any region's environment. Soltec's trackers are self-powered, requiring no additional PV module or grid-powered connection. Bifacial modules collect energy on both the front and rear sides, capturing reflected irradiance from the ground surface under and around the tracker and from other modules. Depending on site conditions, bifacial yield-gain can reach +30 percent.