Certificate to Eliminate Customer Concern Associated with Anti-Dumping and Countervailing Duty Investigations on Crystalline Silicon Photovoltaic Cells
TAINAN SCIENCE PARK, TAINAN, TAIWAN (May 21, 2012)-- Motech Industries Inc. (TWO: 6244TW) ("Motech"), one of the leading solar cell manufacturers in the world, announced today that it will provide all customers which import laminates, panels and/or modules (collectively, "Modules") into the United States with a "Solar Cell Certificate of Origin" . Motech produces Modules globally, including in Newark, Delaware; when a customer requests Modules from one of the manufacturing facilities outside of the United States, Motech will provide the customer with a Certificate.

The purpose of the Certificate is to exclude Modules from cash deposit or bond requirements for customers importing Modules from Motech into the United States in accordance with the March 20, 2012 and May 17, 2012 announcements by the Department of Commerce of its affirmative preliminary determination in the countervailing duty (CVD) and anti-dumping investigations on imports of crystalline silicon photovoltaic cells, whether or not assembled into modules, from the People's Republic of China (China).
As part of this preliminary determination, the Department of Commerce (Commerce) has clarified that the scope of the ongoing Anti-dumping and CVD investigations covers the solar cells produced in China, solar modules/panels produced in China from Chinese-made solar cells, and solar modules/panels produced outside of China from solar cells produced in China, but does not cover the modules/panels/laminates produced in China from solar cells produced in a third country.
As a result, Commerce has instructed U.S. Customs and Border Protection to collect a cash deposit or bond based on predetermined preliminary rates, applicable to all entries of Chinese solar cells made up to 90 days prior to the preliminary determination. Motech has not exported to the United States any Modules using Chinese solar cells since January, 2012 and would not be subject to this ruling. "We want to protect our customers by providing them with a certificate of origin," said Dr. Pen Heng Chang, Chief Executive Officer of Motech.
As a fully vertically integrated manufacturer of solar modules, Motech has control and command over the supply chain from silicon ingot to module. Cell origin is well documented within the chain of command and Motech will continue to maintain such records together with all Certificates for Commerce's verification upon request. Solar modules can be purchased in the United States through our US operations.
About MOTECH
Motech Industries Inc. was founded in 1981 as a designer and manufacturer of test and measurement instruments. The company entered into solar cell production in 1999 and is a pioneer in the manufacturing and marketing of high-quality mono and poly-crystalline silicon solar cells in Taiwan. Today, the company is a global, vertically integrated solar company and one of the world's top solar cell manufacturers in terms of production capacity and output. MOTECH is a publicly traded company on Taiwan's Over-the-Counter (OTC) market with the trading code 6244. For more information about MOTECH please visit http://www.motech.com.tw
About Motech Americas
Motech Americas LLC, located in Newark, Delaware, USA, is the resulting acquisition of General Electric Energy's crystalline solar module business by Motech Industries. This module manufacturing facility has been in operation for more than twenty years and has delivered over 1.5 million PV modules to the solar electric market; delivering solar generated electricity to customers on every continent. Motech Americas is a US manufacturing facility with Six-Sigma rigor, best in class quality, and customer fulfillment standards that are second to none. For more information please visit http://www.motech-americas.com.
Featured Product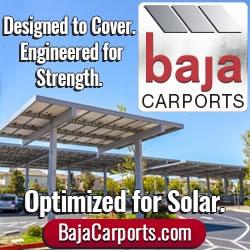 Baja Carports offers an extensive solar support system product line customized to customers' site specifications by in-house engineers, meeting their parking lot coverage, plus optimal PV production needs. Baja's Full Cantilever Tee is often paired with its Semi and Full Cantilever carports to meet live/loads up to 60psf and wind speeds to 160mph. All Baja products are pre-fabricated, bolted connections, pre-galvanized structural steel for fast on-site installation and project aesthetic requirements."