The El Arrayán wind power plant marks our market entry in Chile
Siemens has received an order for a total of 50 wind turbines with a combined capacity of 115 megawatts (MW) for the El Arrayán wind power plant in Chile. This wind project will be developed as a joint venture between Pattern Energy and AEI. Furthermore, the mining division of Antofagasta plc, which is the parent company of Minera Los Pelambres, the power offtaker, has purchased an equity stake in the El Arrayán project. The scope of supply encompasses delivery, installation and commissioning of 50 SWT-2.3-101 wind turbines with a power rating of 2,3 MW and a rotor diameter of 101 meters, including a five-year service and maintenance contract. Installation of the project is scheduled to begin in spring 2013, with commissioning of the wind power plant planned for early 2014.

"The El Arrayán wind power plant marks our market entry in Chile. This project also proves that we are well positioned on the global wind markets with our product portfolio. It is our goal to grow our presence in this region", said Felix Ferlemann, CEO of the Siemens Wind Power Division. The Global Wind Energy Council concluded that Chile has good wind resources from the northern deserts to the extreme South and estimates the country's wind energy potential to be around 40 Gigawatt (GW).
The El Arrayán Wind Farm is located approximately 400 kilometers north of Santiago on the coast of the Coquimbo IV Region. Once completed, it will be the largest wind project in Chile and provide clean and renewable energy to power the equivalent of up to 200,000 average households.
Other Siemens wind orders in South America include three projects with a combined capacity of nearly 300 megawatts (MW) in Brazil, which will be installed in 2012 and 2013. These contracts were secured during the last two years. The 2.3 wind turbines are the workhorses of Siemens` portfolio. At the end of 2011 more than 3,700 units were installed globally.
Wind Power is part of Siemens' Environmental Portfolio. In fiscal 2011, revenue from the Portfolio totaled about €30 billion, making Siemens one of the world's largest suppliers of ecofriendly technologies. In the same period, our products and solutions enabled customers to reduce their carbon dioxide (CO2) emissions by nearly 320 million tons, an amount equal to the total annual CO2 emissions of Berlin, Delhi, Hong Kong, Istanbul, London, New York, Singapore and Tokyo.
The Siemens Energy Sector is the world's leading supplier of a complete spectrum of products, services and solutions for power generation in thermal power plants and using renewables, power transmission in grids and for the extraction, processing and transport of oil and gas. In fiscal 2011 (ended September 30), the Energy Sector had revenues of EUR24.9 billion and received new orders totaling approximately EUR31.8 billion and posted a profit of EUR3.9 billion. On October 1, 2011, the Energy Sector had a work force of more than 82,000. Further information is available at: www.siemens.com/energy.
Featured Product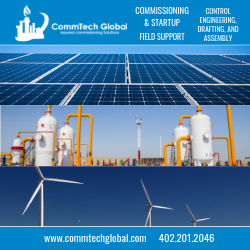 CommTech Global Solutions, LLC, provides professional and reliable commissioning services to customers in all realms of the energy industry. We blend our skills in engineering and technology with innovative business models, offering a complete range of services to assist you for a successful and in compliance operational startup. Consolidation of all our service domains gives our clients a comprehensive set of expertise and far-reaching experience on each project.